After School Classes at the Great Lakes Research Center
---
January 21 – February 26 , 2019, 6 sessions ~ 4:00-5:30 p.m.
Hands-on explorations for Gr. 1-2, Gr. 3-5  students taught by Michigan Tech science & engineering students and staff
---
Gr. 1-2 Snow Science! Tuesdays 4:00 -5:330
Investigate the variety of snowflakes and which type of snow makes the best snowballs. How do animals survive in the winter? Design a way to walk on snow. Which material is the best insulator? Package an ice cube so it wont melt. Students will explore these topics and more in this hands-on class. Instructor: Elizabeth Montgomery, PhD student in School of Forest Resources & Environmental Sciences.
Gr. 3-5 All About Electricity! Mondays 4;00 – 5:30
Spark you interest in in science with hands on learning activities about electricity. Students will explore currents and circuits, learn how electricity is made and even make their own electric toy or gadget. Come see "Watt" its all about. Instructor: Brian Doughty, Center for Science & Environmental Outreach.'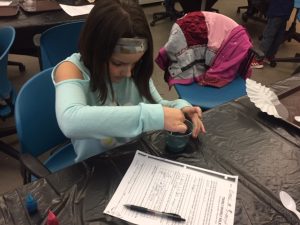 Cost:Gr. $90/student
Pay by credit card by clicking this link:  Payments
Please register online:  2019 Winter Registration  by Mon., Jan. 17th
(Your space is not reserved until payment has been received. Minimum of 10.)
Questions?  Call 487-3341 or email: jchadde@mtu.edu
Houghton Elementary School bus will drop off students at the GLRC by 3:45 pm. Transportation from Houghton Elementary will be provided by Lamers at no additional cost!