After School Classes at the Great Lakes Research Center
---
October 7th – November 11th , 2019, 6 sessions ~ 4:00-5:30 p.m.
Hands-on explorations for Gr. 1-2, Gr. 3-5  students taught by Michigan Tech science & engineering students and staff
---
Gr. 1-2Rocks Rock!  Tuesdays 4:00 -5:30
Students will explore rocks in the Keweenaw, learn about fossils, and participate in some hands-on activities to discover the many uses of minerals!
Gr. 3-5 Autumn Animal Adventures! Mondays 4:00 – 5:30
Set trail cameras and sticky traps to see what animals call the MTU campus home as well as learn about bats bears and wolves. This class will explore wildlife ecology in the classroom and outside.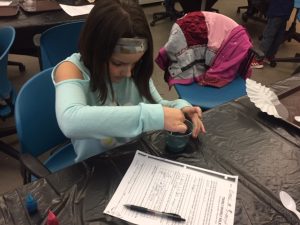 Cost:Gr. $95 /student
Pay by credit card by clicking this link:  Payments
Please register online:  2019 Fall Registration please register by Thursday Oct. 3rd
(Your space is not reserved until payment has been received. Minimum of 10.)
Questions?  Call 487-3341 or email: jchadde@mtu.edu
Houghton Elementary School bus will drop off students at the GLRC by 3:45 pm. Transportation from Houghton Elementary will be provided by Lamers at no additional cost!