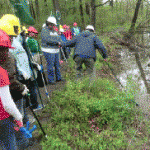 A semester-long Water Education Initiative
focused on enhancing students' connection to Detroit's watersheds and
developing a sense of water stewardship among students in Detroit.
Open to 16 Middle School Teachers from eight Detroit middle schools per year (2017-18 and 2018-19).
---
How Teacher Participants Will Benefit:
1. Attend 5 water education Saturday workshops from Jan.-May 2018
which will connect to Grades 6-8 Michigan Science & Social Studies Standards.
2. Opportunity to earn 25 SCECHs.
3. Receive classroom resources, 3 activity guides, and funding to create school
rain garden and classroom watershed model.
4. Receive funding for classroom/field supplies, rain garden at school,
and travel stipend ($200/teacher/field trip) for 3 field trips.
5. FREE one-year membership to Michigan Alliance for Environmental &
Outdoor Education (MAEOE).
6. Professional enrichment of working closely with peers, expert educators,
and scientists.
Program Requirements of Teacher Participants:
Attend 5 six-hour workshops on Saturdays Jan-May 2018.
(Jan. 27, Feb. 10, March 17, April 14, May 5).
Bring your students on 3 field trips: tour Detroit water treatment plant,
conduct ecosystem monitoring; and participate in a stewardship project.
Create a rain garden at your school (supplies & training provided)
5 Teacher Workshops
Saturday, January 27, 8:30-3:30 pm, at Belle Isle Nature Center            Making Environmental Education Relevant for Diverse Audiences & Integrating Water into the Middle School Science & Social Studies Curriculum
Presenter: Robert Simmons, award-winning teacher, will present how to connect with urban youth, value of diversity, and challenges of under-represented youth.
 Saturday, Feb 10, 8:30-3:30 pm, at Univ. of Michigan Dearborn Environmental Interpretive Center
MEECS Water Quality Unit & Detroit's Green Infrastructure
Presenters: Joan Chadde, lead author, will present hands on classroom activities                        Lara Treemore Spears and Dorothy McLeer will lead Green Infrastructure field trip.
Saturday, March 17, 10 am-5 pm, at Outdoor Adventure Center
Project Wild Aquatic/ WET & Field Trip Planning
Presenters: Natalie Elkins, MI Dept. of Natural Resources and Joan Chadde, Michigan Technological University
Saturday, April 14, 8:30-3:30 pm, at Belle Isle Nature Center
Service Learning, Stewardship & Earth Force Curriculum
Presenters: Joan Chadde, Michigan Tech, and Lara Treemore Spears, Wayne State University Healthy Urban Waters
Saturday, May 5, 8:30-3:30 pm, at Belle Isle Nature Center
Outdoor Learning & Natural Resources Career Panel
Presenters: Joan Chadde, Michigan Tech, and Lara Treemore
Spears, Wayne State University Healthy Urban Waters
3 Field Trips from March to June 2018
 Water & Wastewater Treatment
Tour and Urban Stormwater Practices
April 10-12, April 17- & April 24-26 (10-Noon & Noon-2pm
Tues-Th; 30 students/tour)

                                                                                                                                                            Ecosystem Monitoring   April 23-26 & April 30-May 7 (10am – 2 pm)
Stewardship Projects
May 1-4, 9, 10 & 17 (10 am-2 pm)
Rouge Park tree-planting;
Cadillac & Marathon Gardens in Mexicantown;
Belle Isle shoreline cleanup, garlic mustard pull;
trail improvements.; create rain gardens.
Detroit River International Wildlife Refuge
---
 Sponsors
Michigan Technological University
Wayne State University Healthy Urban Waters
Detroit Zoological Society & Belle Isle Nature Center
Detroit Audubon, Southwest Environmental Vision
Detroit Public Schools Community District
This project is made possible with an Environmental Education grant (EPA-EE-16-01) awarded by the USEPA through a competitive selection process.