The Digital Services team is developing an upgraded global footer design for our CMS websites. The upgrade puts a strategic focus on marketing and recruitment in line with our mission to increase enrollment.
Customization
We are excited to introduce some new, customizable options. In addition to customizing your contact information, you will now be able to add call-to-action (CTA) buttons and social media icons to your CMS website's footer. Options include:
No CTA buttons or social media icons (base footer only)
Add social media icons linking to the social media channels of your choice
Add a "Give" button, linking to the giving page of your choice
Add three recruitment buttons, letting users Request Information, Schedule a Visit, or Apply
You can also use any combination of option #2, #3, and #4.
Upgrading Process
The base footer will launch automatically using your existing contact information in the next week. Nothing is required of you. Additions can be used on an opt-in basis. Instructions for enabling the CTA buttons and social media icons will be sent to CMS Liaisons later this month.
Example Footers
Design elements may be still be adjusted slightly by UMC, but the following examples preview the design for our new footer options.
Base Footer (Example #1)
The contact information will continue to be customizable as it is in our current footer design.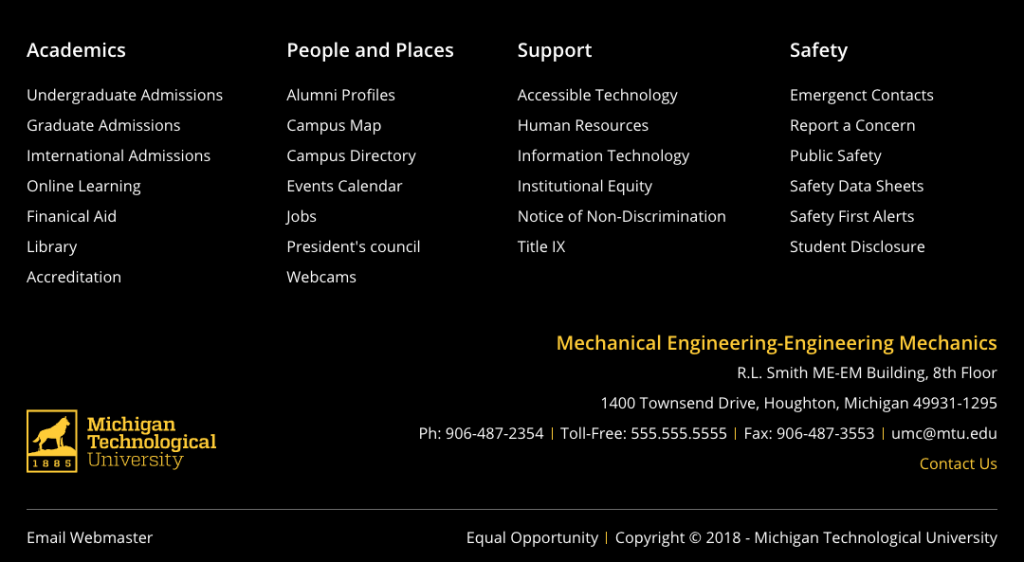 ---
Social Media Icons (Example #2)
You can choose from our standard social media icons and point them to social accounts of your choice.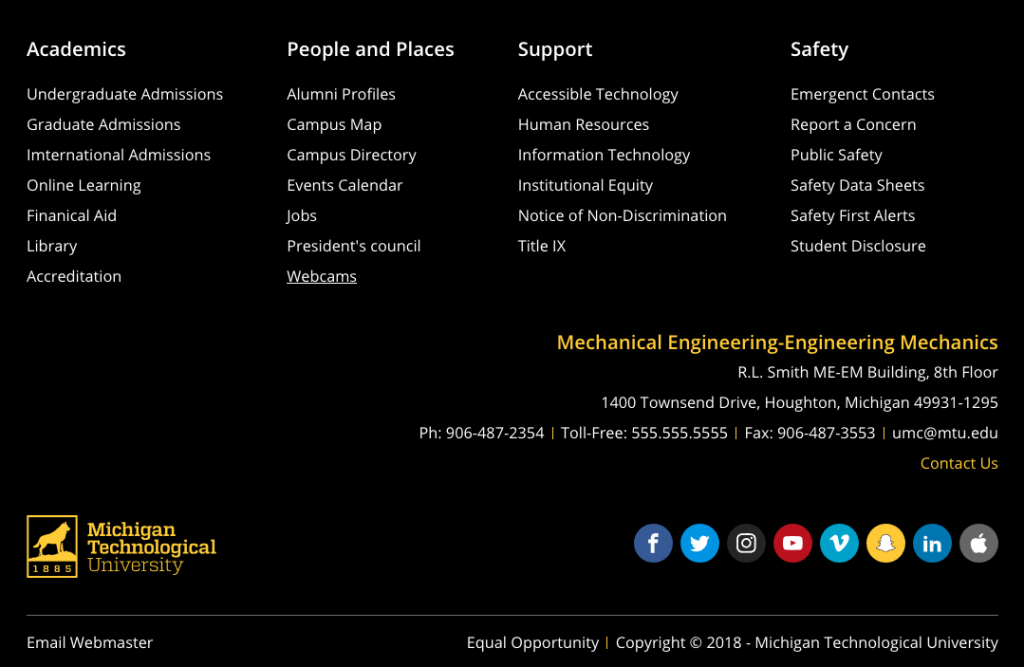 ---
Give Button (Example #3)
You can choose where the giving button links to. We recommend using this button only if your department has it's own giving webpage, although you could also choose to link to the University's giving website.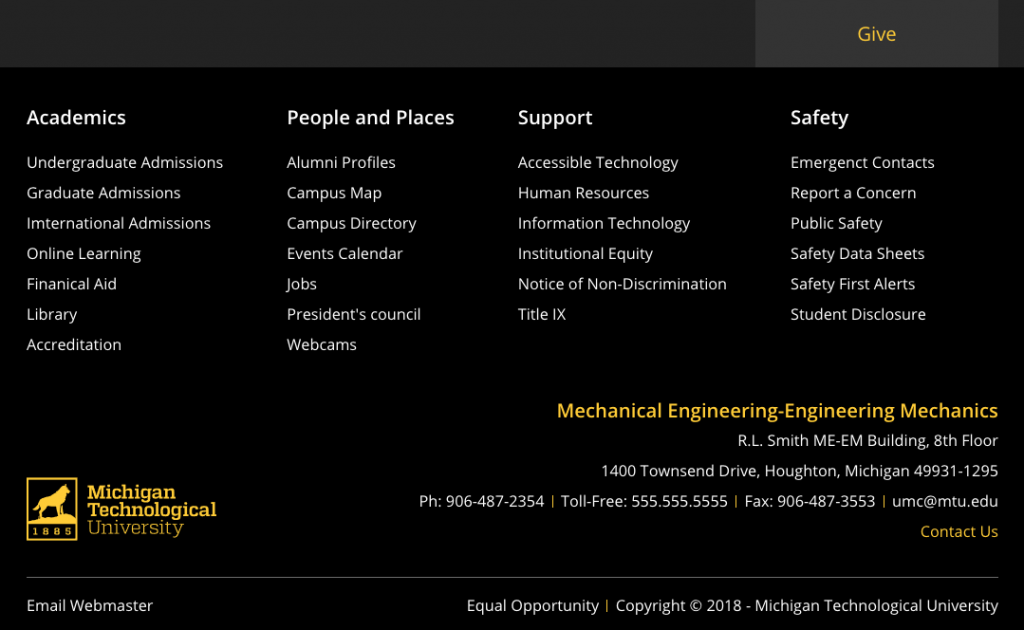 ---
Recruitment Buttons (Example #4)
You must add all three recruitment buttons together (all or nothing) and they will automatically link to the appropriate University-level webpages for you.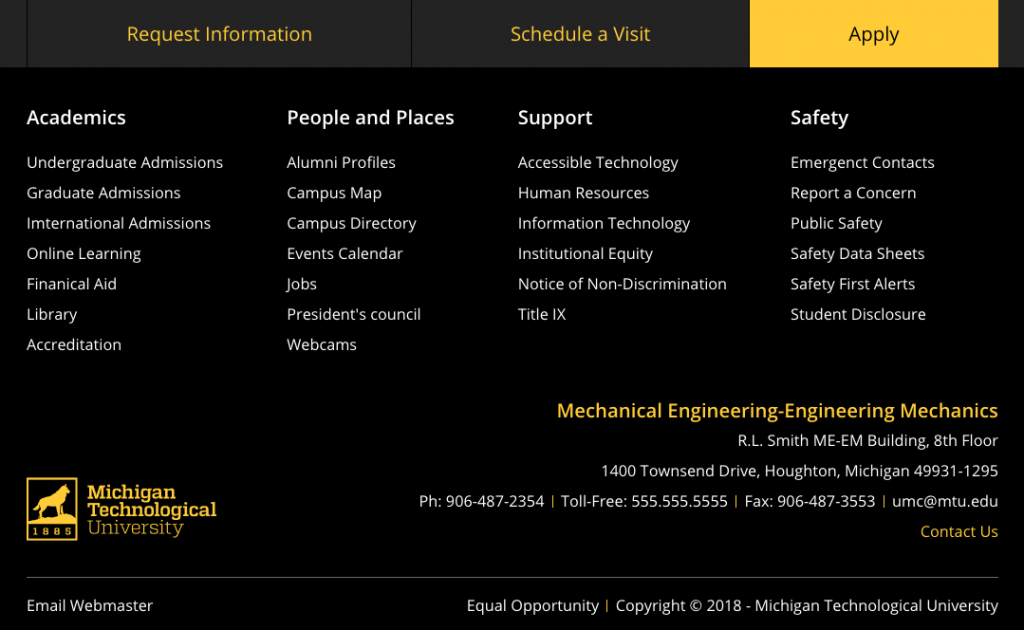 ---
Combination Option
You can mix and match between options #2, #3, and #4. Here is one example of a potential combination.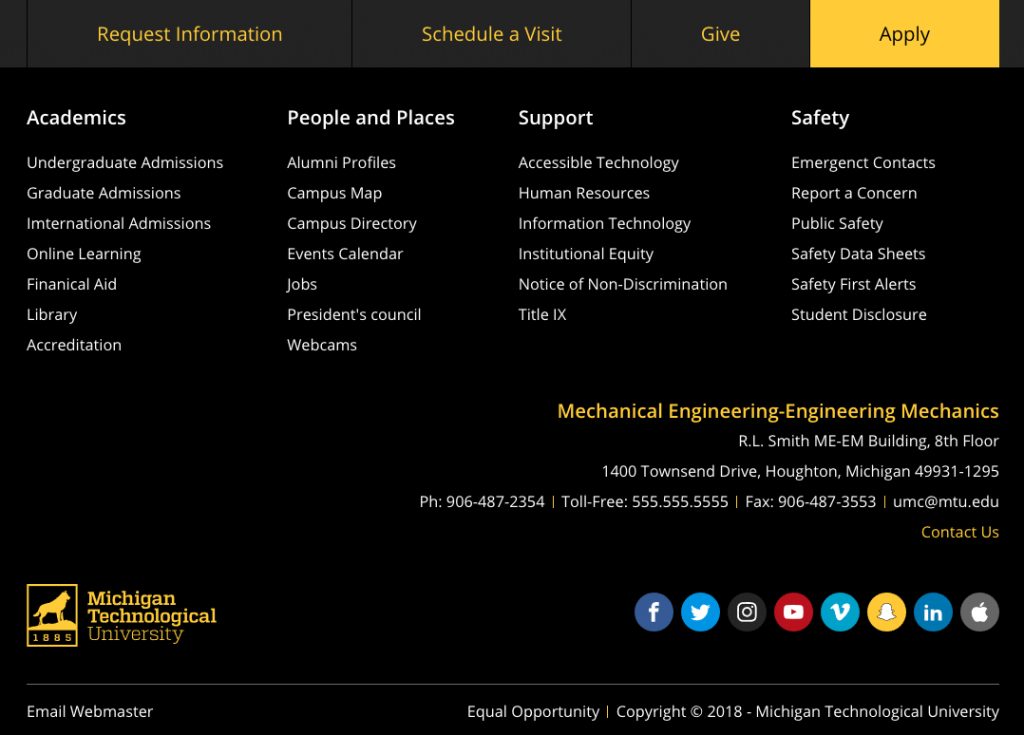 ---
Feedback
We are very excited about an increased focus on recruitment that matches our University goals. Any feedback, questions, or concerns can be sent to cmshelp@mtu.edu. Thank you.
Joel C. Vertin
Director of Digital Services
jcvertin@mtu.edu