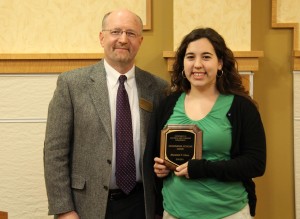 The 2011 ECE Student Awards Banquet was held on Thursday, April 14, 2011 in the Memorial Union Building Ballroom on the Michigan Tech campus. The banquet is held each spring to honor ECE senior students and senior design/enterprise teams. It is also a time to recognize those who have gone above and beyond in their contribution to academics and the community. This year the ECE department was proud to present the following awards.
Elizabeth (Liz) Cloos: 2011 ECE Departmental Scholar
Nicholas Oberski: Carl Schjonberg Award – Outstanding Undergraduate Student
Michael Blaser: Jonathan Bara Award – Outstanding Graduate Teaching Assistant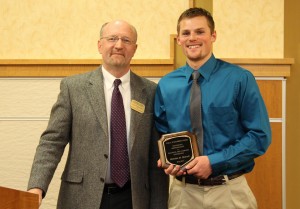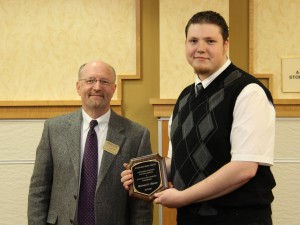 As part of its spring meeting agenda, the ECE External Advisory  Committee (EAC) observes the department's senior design presentations and poster displays to select a team that best meets or exceeds their specific criteria related to today's industry needs. This year's EAC Industry Innovation Award went to Team 5 for their Power Assisted Door Safety for Armored Vehicles project sponsored by BAE Systems Global Tactical Systems. Team members Ryan Anderson, Bradford Johnston, Matt Klotzer, Callin O'Farrell, and Alex Puestow each received a $150 cash prize for their work.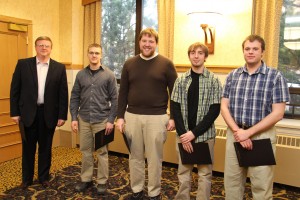 Another highlight of the awards ceremony is the presentation of the Eta Kappa Nu Honor Society "Outstanding Professor of the Year" award. This year's recipient was Dr. Chris Middlebrook, Assistant Professor in the area of Photonics. Dr. Middlebrook began teaching at Michigan Tech in fall 2007.