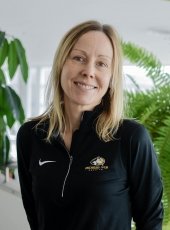 ECE Business Manager and Technical Communications Specialist Lisa Hitch was recognized at the 2017 Making a Difference Awards reception on January 10, 2018.
"During our recent ABET visit, our department chair was suddenly called away from our department at a critical moment in the evaluation process. Without hesitation, Lisa organized the details of the department meetings between our ABET visitors and more than 50 students, staff, and faculty in a matter of hours. As a result of her intervention, the visit proceeded without interruption. When our chair returned, he found a department visit so smoothly tuned and ready that it went forward flawlessly. Without her initiative the meetings would have been hopelessly uncoordinated and left a terrible impression on our visitors. She saved the day for all of us."
A total of 47 Michigan Tech staff members were nominated for 2017 Making a Difference Awards. Hitch received an award in the "Above and Beyond" category. The awards are organized by Michigan Tech Staff Council.
Congratulations to Lisa!