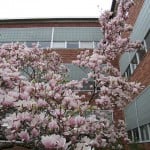 Norma Veurink (EF). has received $92,155 from Ohio State University for the project "Enhancing Middle School Mathematics Achievement Through Spatial Skills Instruction." This is the first year of a potential four-year project.
Jonathan Riehl (EF) has been selected to participate in the Eno Future Leaders Development Conference in May in Washington, DC. This conference brings together a select group of the top graduate students in transportation to Washington for an introduction to transportation policymaking. During the week long program, participants will meet with transportation leaders from all government levels and the private sector. Participants will also become members of a unique network of transportation leaders called Eno Fellows. In addition to his duties as a lecturer in Engineering Fundamentals, Riehl is completing his doctoral work in transportation engineering at Michigan Tech, where he is exploring urban sprawl in small cities. Part of his participation at this conference is funded by the Michigan Tech Transportation Institute (MTTI)
ASEE Prism, published by the American Society for Engineering Education, quoted Jon Sticklen, chair of engineering fundamentals, in an article on engineering schools that are finding effective ways to increase their female student ratio.