SpeedGrader™ is an innovative Canvas feature that vastly improves instructor workflow, which has impressed many instructors here at Michigan Tech and across the country. SpeedGrader™ exemplifies Canvas' philosophy of embracing new ideas for constant and forward-thinking innovation, which sets Canvas apart from the rest of its competitors.  Instructors can use SpeedGrader™ to view different types of online assignment submissions right inside Canvas without needing to download them, and this is a significant innovation in itself.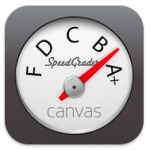 Also, instructors can use SpeedGrader™ to send text and/or audio-video comments to students about their assignment, to attach files for students to view, and to grade using a point scale or rubric, whether the assignment was an online submission or not.  Follow this link to Using SpeedGrader™ in Canvas to read more about it.
The ability of SpeedGrader™ to view and grade online submissions right in Canvas has now been improved with the addition of Crocodoc.  This latest innovation allows instructors to use Crocodoc in SpeedGrader™ to comment and annotate directly on those online file submissions without the need to download or save files to their computer.  Crocodoc's online annotation features include drawing, highlighting, using strikethrough, adding text comments, and more.
Check out How do I use Crocodoc in the SpeedGrader™? to read more about Crocodoc and see a more detailed list of its tools and features. Refer to Crocodoc Markup in SpeedGrader™ for a video demonstration.  For more general information or help with Canvas at Michigan Tech, and to sign up for eLearning workshops, visit the Canvas One Stop page.
By Tom Freeman – eLearning