This spring semester the Jackson Center for Teaching and Learning will host an "explosive" program intended to showcase the most effective, intuitive, and helpful Canvas Courses at Michigan Tech.  The third-annual C-4 competition will focus on Canvas courses that are intuitive and easy to navigate, feature good course design, provide convenient access to information and materials students need, and offer resources and activities that help students succeed in the class.
Studnts, faculty, or chairs can nominate a spring term course for C-4 in just seconds by entering the instructor name, course name, and reason the course deserves recognition.  Nomination
s should be entered on this form no later than pril 11, 2015 for consideration.
The CTL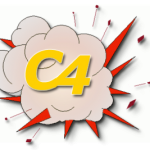 Tip of the Week is brught to you by the William G. Jackson Center for Teaching and Learning (CTL). For more general information or help with Canvas at Michigan Tech, be sure to visit Canvas One Stop.