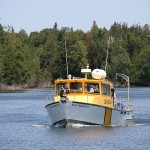 Nearly 100 community members went home on Saturday afternoon with a greatly enhanced understanding of Great Lakes science and were inspired to care for the lake. Several youth are super engaged now and want to learn more.
This was the 10th year at the Strawberry Festival, and the outreach program continues to reach new people locally and visitors to the area! 7 excursions went out on the Agassiz.
Here are a few highlights from the evaluation responses:
"The Agassiz program is great as is; no improvement needed!"
"Fun & educational"
"New info they learned—many said plankton & bloodworms"
"Importance of good quality water"
"Share info with others, will teach my children & grandchildren, encourage them to take care of our water resources"
"This sounds like a type of job that I'd like to do when I'm older" (13 years old)
"Excellent!"
"How to save the Great Lakes ecosystem"
"Would like to learn more about interdependence & effects on other organisms"
The outreach program shows 'How do scientists assess the health of Lake Superior' as the focus of these free scientific excursions that were offered at the Strawberry Festival.
The public was invited to sign up for FREE 40-minute scientific excursions aboard Michigan Tech's research vessel Agassiz.
On each scientific excursion, a Dr. Marty Auer, an MTU Great Lakes scientist, demonstrated the use of sampling equipment to collect plankton and sediment, evaluate water clarity, temperature, and turbidity that tell us about the health of the lake, i.e. Chassell Bay. Participants saw the connection between land uses and the health of the Great Lakes.
Remotely-Operated-Vehicle (ROV) demonstrations were also be conducted from the Chassell Marina dock throughout the afternoon.
"Copper Country residents and visitors are encouraged to learn how scientists study the Great Lakes and what factors contribute to a healthy lake," explains Joan Chadde, education program director. "These scientific excursions for the public have been offered at the Strawberry Festival since 2006 and have been extremely popular. Youth and adults enjoy the opportunity to interact with Great Lakes scientists and get their questions answered."
The event is coordinated by the Western U.P. Center for Science, Mathematics and Environmental Education and Michigan Tech's Great Lakes Research Center. This year, the program is funded by the GM Ride the Waves Program putting more than 500 Copper Country youth and adults on the water each year to learn about the Great Lakes and promote STEM careers, along with support from the Michigan Tech Center for Water & Society, Lake Superior Stewardship Initiative, and the Chassell Lions Club.
Western UP Center for Science, Mathematics & Environmental Education: http://wupcenter.mtu.edu/
Michigan Tech's Great Lakes Research Center http://greatlakes.mtu.edu/
Michigan Tech Center for Water & Society http://www.mtcws.mtu.edu/
Lake Superior Stewardship Initiative http://lakesuperiorstewardship.org/