All posts by ehgroth
---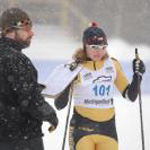 Michigan Tech had 14 skiers named to the 2009 National Ski Coaches Association National All-Academic Ski Team. To be eligible, skiers had to have a 3.5 GPA for the Fall semester and have participated in the NCAA Central Regional Skiing Championships. "This is a great honor for these student-athletes," said head coach Joe Haggenmiller. "They work hard both in the classroom and in competition and this award recognizes their hard work."
The 14 selections are below:
Continue reading →
---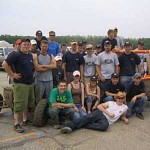 Global challenges are driving fundamental changes in transportation.
Interdisciplinary teams of Michigan Tech students are hard at work developing solutions to these challenges. The Enterprise program embraces an active, discovery-based learning model–where faculty and industry serve as coaches and mentors, and students develop the broad knowledge and skill bases needed to succeed in today's ever-changing environment. Industry involvement is critical to the success of Enterprise. Support of Michigan Tech's four Advanced Motorsports Enterprise teams offers enhanced access to tomorrow's engineers and leaders, increased visibility of sponsoring companies, and perhaps most importantly the opportunity to actively shape the future of engineering education.
• Visit the Advanced Motorsports Enterprise Website
• View the Advanced Motorsports Enterprise Brochure
---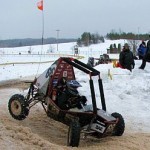 The 2009 Winter Baja Competition was on Saturday, February 14th in Lake Linden, Michigan
• 2009 Winter Baja Competition photos and video in Lake Linden, Michigan
---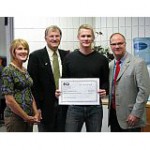 Kenneth Brooks (MSE) won a $25,000 metallurgy scholarship, which was awarded by the Ellwood Group, Inc.
• View the Daily Mining Gazette story
---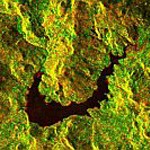 Jill Bruning, and John Gierke go to Nicaragua for field testing.
• Remote Sensing for Hazard Mitigation and Resource Protection in Pacific Latin America.
• View the full article
---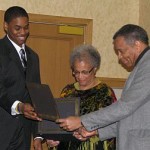 February is Black History Month.
• See Schedule of events at Michigan Tech
View the full article
---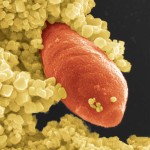 Magnetofossils are new to the biomineral world, according to Michigan Tech paleomagnetist Aleksey Smirnov.
View the full article
---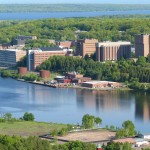 In a move to help address Michigan's economic crisis, Michigan Tech is joining hands with General Motors and the Engineering Society of Detroit to provide free retraining for displaced automotive engineers.
Michigan Tech will offer a one-semester, three-credit course, in advanced propulsion technology, to equip displaced engineers to meet the growing demand for workers skilled in green automotive technologies. Students will learn the fundamentals of controlling and calibrating hybrid vehicle powertrains to meet fuel economy and emissions targets.
View the full article
---
The Michigan Public Service Commission has awarded a team of Michigan Technological University researchers $1.5 million to develop technologies for flex-fuel hybrid vehicles.
The grant builds on over $1 million in support from General Motors, Sensors Inc. of Saline, Argonne National Laboratory's Transportation Technology R&D Center and Michigan Tech.
"There is no flex-fuel hybrid available, partly because it's a big challenge to meet emissions standards," said lead investigator Jeff Naber, an associate professor of mechanical engineering-engineering mechanics and director of Michigan Tech's Advanced Power Systems Research Center.
Flex-fuel engines can burn anything from pure gasoline to E85–a blend of 85 percent ethanol and 15 percent gas. The properties of the two fuels vary tremendously, creating daunting engineering challenges. Ethanol contains only 63 percent of the stored energy of gasoline and requires about three times the energy to vaporize. Straight gasoline, however, has a much lower octane rating and can cause engine knock in a high-performance engine that would run smoothly on ethanol.
If engines can't adapt to these very different fuels, emissions rise and mileage falls, Naber said. Starting and stopping the engine repeatedly makes this problem worse, and that's just what hybrid engines do many times during a single trip, whenever the vehicle switches from battery to internal combustion and back again.
To address the problem, the researchers will work to optimize numerous aspects of the powertrain design and control, including the fuel and combustion systems.
As part of the project, the team aims to design and build an efficient, four-cylinder, hybrid engine with a variable compression ratio that can run on flex-fuel and meet the US EPA's tough emissions standards, something that no hybrid has ever done. They will also develop a computer model that will allow engineers to simulate the factors involved in designing efficient, clean-running, flex-fuel hybrid engines.
"We look forward to an active exchange of expertise and know-how through this program," said Thomas Wallner, principal investigator in Argonne's Engines and Emissions Group. "Advanced instrumentation will be developed to further our knowledge base on the use of alternative fuels in engines." As part of the collaboration, Michigan Tech students will visit Argonne to conduct research.
Ultimately, the technologies will be used by General Motors to manufacture energy-efficient vehicles that meet the federal government's 2020 CAFE emissions standards.
Co-investigators on the project are Jay Meldrum, director of the Keweenaw Research Center; Donna Michalek and John Beard, associate professors of mechanical engineering-engineering mechanics; Seong-Young Lee, Scott Miers and Abhijit Mukherjee, assistant professors of mechanical engineering-engineering mechanics; and Jeremy Worm, staff engineer of the Advanced Power Systems Research Center, which is directed by Naber.
The team is part of Michigan Tech's Wood to Wheels program in the Sustainable Futures Institute, a forest-to-tailpipe research and education initiative to improve the entire lifecycle of bioenergy production and utilization from Michigan's abundant forest resources.
---