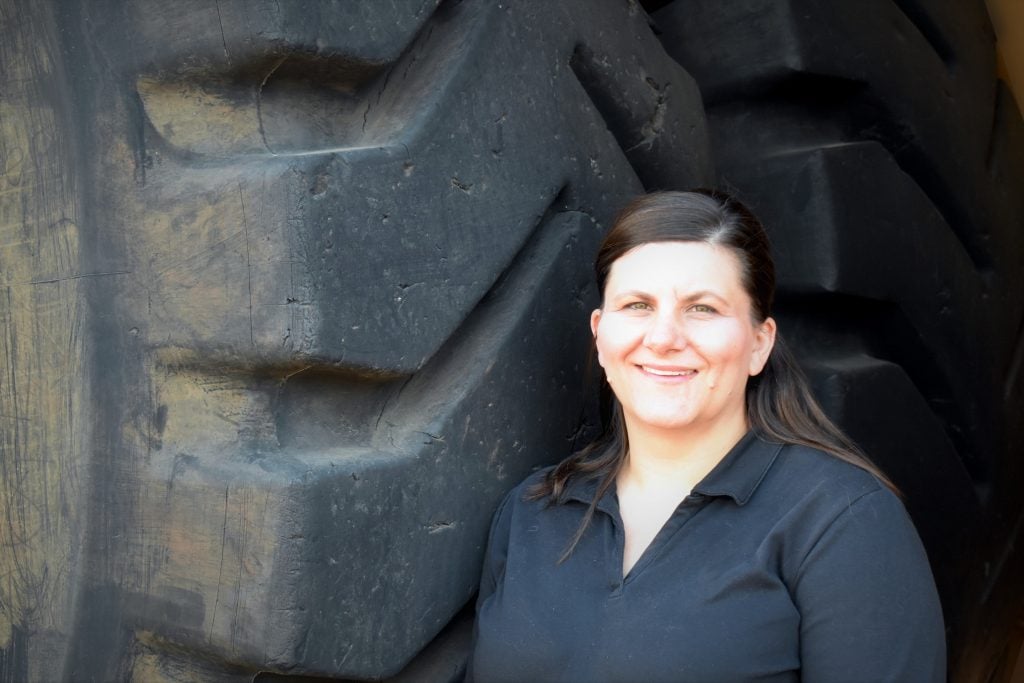 After a 15-year break, Mining Engineering officially returns to Michigan Tech, with BS, MS, and PhD degree programs and cutting-edge research. Learn more online. 
Julie Marinucci earned her Bachelor of Science in Mining Engineering from Michigan Tech in 2002. She knew early on that mining would enable her to work globally, but also return home someday to northern Minnesota and have a good career there, too. Turns out, she was right.
What fostered your own path to studying and working in mining?
Mining Engineering kind of landed in my lap. I knew I wanted to be an engineer of some type and that I wanted to work outdoors. Civil Engineering seemed like the most likely choice, but then I met Murray Gillis, a mining engineering instructor at Michigan Tech. Murray was at a local college fair and he sparked my curiosity, not just in Michigan Tech, but also in Mining Engineering. My campus visit, and spending the summer after high school working in a mine, sealed the deal!
Describe some challenges that you face in your work.
The biggest challenge is the general misunderstanding of the mining industry. Many people do not understand the amount of care that goes into extracting minerals for the conveniences and protections we as a society have come to expect. Mining considers the full lifecycle of the land, careful consideration of the environmental conditions prior to mining, efficient extraction of the minerals of interest, and thoughtful reclamation with the next generation of land use in mind. I have always thought a big part of my job is to ensure the general public understands the efforts taken in developing a mine.
What has changed the most in mining engineering over the course of your career?
The continuous evolution of technology in mine planning has been fun to watch. Operations are now utilizing drone technology and laser scanning to manage pit operations, blast efficiency, ore grading, and more. I had the opportunity to work with engineers early in my career who had the large map tables and boxes of colored pencils. Fast forward now to laser scanners, drones, remote equipment monitoring, and more!
What changes do you expect to see in the future of mining?
I expect to see the way we work in mining to evolve, and look to more flexible work arrangements that will bring in a more diverse workforce. The days where you must be at your 1950's steel desk working from 6 am to 6 pm will evolve into the ability to work remotely. It will allow for a different type of operational accessibility while providing for better balance in life.
What is your most surprising experience as a mining engineer to date?
When I started down the journey to become a mining engineer, I envisioned working my way through an operation in a very technical role. Through the years, I found that my degree has allowed me to reinvent myself many times over.
I started my career with Caterpillar in a marketing position. It was completely unexpected, but Cat was looking for someone who could understand the equipment, understand the mining industry, and effectively communicate with clients. What a great job! I went on to enjoy many roles at Cleveland Cliffs iron mining operations, where I learned to be an engineer, manage operation crews in the pit, and had the great learning experience of working at a greenfield operation in Canada (with a language barrier!). When I decided to leave Cliffs, I discovered the contacts I had made, along with understanding of mining operations, positioned me well for a career in consulting. My time with Short Elliott Hendrickson Inc. working in business development for mining and heavy industry taught me how to assemble a team to help solve problem and deliver a successful project.  Then came my current role, with St. Louis County—a brand new position created to ensure that the vast mineral wealth held within the county was protected. The chance to define the job and lay out the mining and mineral strategy for the county was too good to pass up. St. Louis County holds world class iron, copper and nickel deposits, to name a few, and has a long mining history of over 130 years. As Mineral Development Specialist, I work closely with the Minnesota Department of Natural Resources, and local mining and exploration companies and communities, to ensure we are responsibly moving mining forward for the benefit of the region and the Tax Forfeited Land Trust.
Why do you think it was important to reinstate the mining engineering degree program at Michigan Tech?
Michigan Tech was founded as a mining engineering school and the demand that was created in 1858 still holds true today. Michigan Tech is positioned strategically near two large mining districts with growing interest in mineral development. The need for qualified mining professionals to move these project forward is great. The alumni network is willing to support these students through their education to ensure they have the best start possible.
Why should a student enter the field of mining engineering now?
The need for skilled mining engineers that love our region and want to stay, work and raise a family is strong, while the nationwide and global demand continues to grow. Mining in not for the faint of heart, but if you can weather the storm it's a fulfilling career with many ways to leverage a mining engineering degree.
What are the greatest rewards and challenges mining engineers face now, and will face in the future?
Mining engineers should be proud to know that they are part of the fabric that maintains our quality of life, helps to grow our food, provides the materials for our ever-expanding tech advances, and keeps our families safe. This role in our modern life is not well-understood, but it's a very important role. The future has great potential to continue to move our industry into next levels of efficiency, safe production, beneficial reuse of waste streams—and maybe mining the moon! The stars are the limit!
What's next in your career?
I look forward to continuing to explore the opportunity to manage the land for mineral development, while planning for beneficial reuse of the land and the residuals. The ability to make an impact in my backyard is exciting and I look forward to evolving the role and myself over the years.