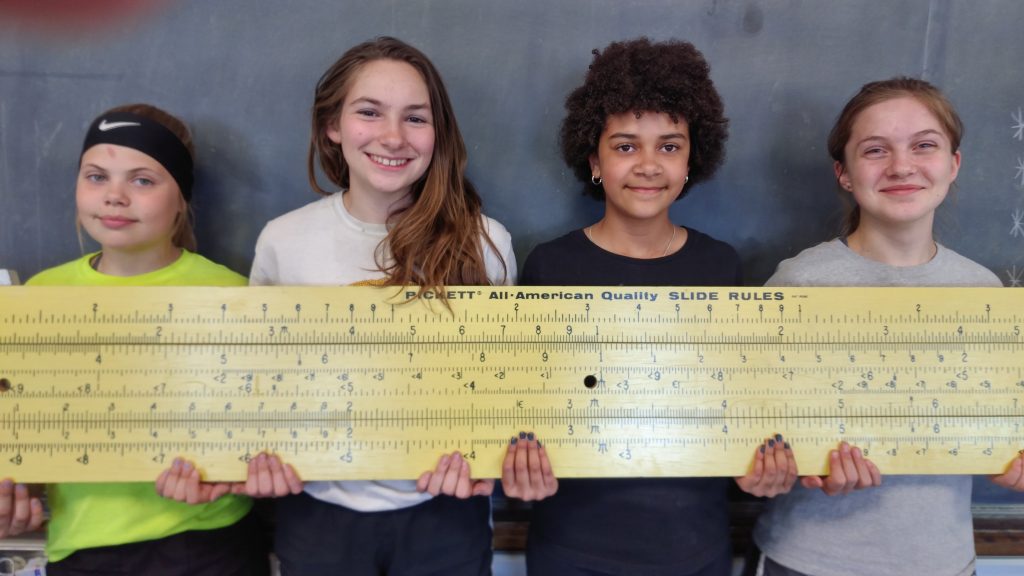 Students attending Lake Linden-Hubbell schools who live within one mile of their school are not eligible to take the school bus. Many walk to school, often in the dark, early morning hours. The same is true for students in another nearby school district, Calumet-Laurium-Keweenaw.
A small group of 7th grade students from Lake Linden-Hubbell High School in Michigan's Upper Peninsula—Jenna Beaudoin, Chloe Daniels, Rebecca Lyons, and Olivia Shank—decided to do something to help improve safety for students who walk to school. Each was highly motivated, for personal reasons.
"I have three younger siblings who walk to school, and they aren't always aware of their surroundings," said Daniels.
"My uncle was biking one night and didn't have a helmet or a reflector and he got hit by a car. He had brain trauma and now has trouble remembering certain things," said Beaudoin.
"I want to be able to walk safely by myself or with my dogs in the early morning or in the evening when it gets dark," said Shank.
"We live in a really snowy area, and kids can get hit," said Lyons.
Helping kids and others walk safely in the dark is their mission, but it was more than that—it is their eCYBERMISSION, a national science competition sponsored by the Army Educational Outreach Program. Nationwide, students in grades 6-9 work in small teams for over a year to develop a process or product that will benefit their community. Locally, the Lake Linden Middle School eCYBERMISSION team is advised by Michigan Tech Engineering Fundamentals instructor Gretchen Hein, and chemical engineering senior Ryan Knoll.
Because none of them knew anything about circuits, the team contacted Glen Archer, interim chair of the Department of Electrical and Computer Engineering at Michigan Tech. Archer introduced the seventh graders to electrical engineering student John Robinault, outreach manager of Blue Marble Security.
Born out of the Michigan Tech Enterprise program, Blue Marble Security is a virtual company comprised undergraduate students focused on securing the future through thoughtful use of technology.
Twice a week, Beaudoin, Daniels, Lyons and Shank met with Robinault and computer science major Tyler Arthur in the Blue Marble Security lab, located in the EERC building on campus.
The girls modeled the casing of their LED reflector using Siemens NX software, created their circuit using National Instruments Multisim™ software, and modeled their circuitboard using Eagle PCB design software. They had never used the software or soldered. The Blue Marble students demonstrated how to model and solder, but the girls did the work.
Arthur was a brand new member of Blue Marble Security Enterprise when he began working with the girls. "It gave me an opportunity to teach some of the material that I was already familiar with, while also learning new things along the way," he said. "We worked together to get familiar with CAD modeling, for instance.
In the process, Arthur learned a lot about working with younger students, something he hadn't ever done. "The fact that the team members are all good friends made for an interesting group dynamic, because was easy for them to distract each other while working on the project." Even so, the girls persevered. Throughout the fall, the team completed their research and designed their reflector. They took their preliminary design to their 7th grade science classes for feedback. Based on that, they updated the design, completed the circuit board and went back to the school for more feedback, this time visiting both 7th and 10th grade science classes, asking the students to compare their LED reflector to a plain reflector. After receiving more valuable feedback, the team modified their design.
At that point, they began testing their LED reflector—calling it the "Yooper Light", and themselves, the Yooper Lights.
Outdoor testing was completed on a straight, flat road near their school, over a distance of 170 feet. Pedestrians (students grades 7-9), and drivers (students grades 10-12, plus college students and adults) were asked to report when they could see a person walking and wearing either the plain reflector or the Yooper light LED reflector.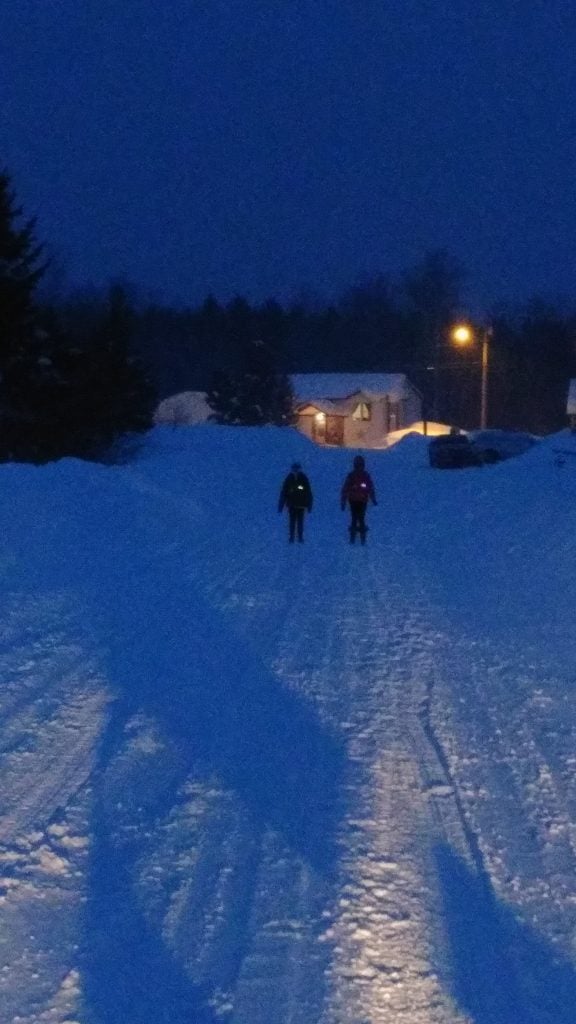 Due to weather conditions, only the college students and adults tested outside. The remaining tests were completed inside the school, in a dark hallway lit only by security lights. The Yooper Lights found that everyone could both see the LED reflector and the person wearing it over the entire testing distance.
They decided to conduct another, independent test to see just how far their LED reflector was visible. The maximum visibility was found to be 91.3 meters—over twice the previous testing distance.
Yooper Lights submitted their report to eCYBERMISSION, learning in March that they had made it to the virtual regional competition. Once again, Michigan Tech helped them out. The girls presented to judges at the Jackson Center for Teaching and Learning with help from Associate Director Jeff Toorangian.
In late April, Yooper Lights became the first place 7th grade team in Michigan—and a finalist in the North Central Region. In a word: Success! They were going to compete in Washington, DC at the national competition.
During the weeklong event in DC last June, the Yooper Lights team bonded with their eCYBERMISSION mentor, Michigan Tech alumna Sasha Teymorian, now a chemist in the US Army Research Laboratory. Teymorian graduated with her doctorate in Chemistry from Michigan Tech in 2015. Together they enjoyed a bevvy of cool activities, including one called "Houston, We Have a Problem," that tasked the girls with engineering a solution to the Apollo 13 mission. They worked with radio-controlled cars and conducted ballistics on balloons, and even designed autonomous vehicles at the National Inventors Hall of Fame.
While in DC, Beaudoin, Daniels, Lyons and Shank also visited their Congressional representatives. They first met with Representative Jack Bergman, and then with Robert Curis, a staff member in Senator Debbie Stabenow's office, sharing just how they used engineering to develop their LED light.
Finally, the Yooper lights presented their project to a team of eCybermission judges. "Although the team did not win the national competition, they gained a great deal from the experience," said advisor Gretchen Hein.
What's next for the team? Something they're calling "Yooper Power". Collaborating again with students from the Blue Marble Security Enterprise, as well as Michigan Tech student chapter of the Society of Women Engineers (SWE), the girls, now in 8th grade, will develop outreach activity kits for fifth and sixth graders. Their new mission: introduce more young students to the field of electrical and computer engineering.