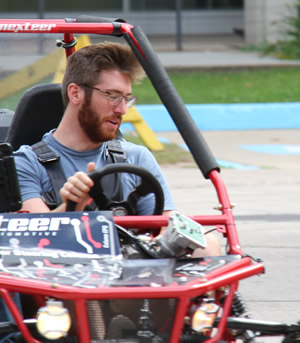 Michigan Tech's CareerFEST kicks of this week with Automotive Day, the first in a series of Industry Day events and activities.
Automotive Day is from 11 a.m. to 3 p.m. Thursday (Sept. 1), with most activities taking place in the CareerFEST tent on campus.
Leaders in the automotive industry will be on campus to show-and-tell students about their companies and employment opportunities.
Lunch will be served from 11:30 a.m. to 1:30 p.m.
Hands-on exhibits include live engine calibration, an engine tear down, steering system testing by driving a go-cart and other interactive hands-on exhibits.
Among the companies participating are Ford Motor Company, ArcelorMittal, General Motors, Fiat Chrysler Automobiles, Cooper Standard, Nexteer Automotive, Oskosh Corporation, Harman, Yanfeng, Faurecia and Cummins.