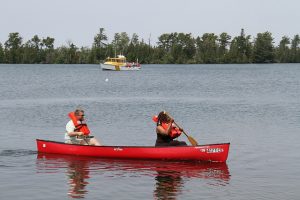 Celebrate the beauty and bounty of Lake Superior from 1 to 4 p.m. Sunday, July 24, 2016. Copper Harbor community volunteers, along with the Lake Superior Stewardship Initiative, are organizing the fourth annual Lake Superior Day Festival with lots of special activities at the 6th Street Dock along the Copper Harbor Boardwalk (near Isle Royale Queen boat dock).
The Agassiz will depart every 45 minutes from the Isle Royale Queen dock beginning at noon. Space is limited to 17 persons per excursion. Participants must be at least seven years old and children must be accompanied by an adult. All participants should wear closed-toe shoes. Interested participants may pre-register by calling 7-3341 or email Lloyd Wescoat at lwescoat@mtu.edu. Space will be available for on-site participants. For more information about the event contact lead organizer, Don Kilpela, Captain of the Isle Royale Queen, at 289-4735.
Read more at Tech Today, by Lloyd Wescoat.