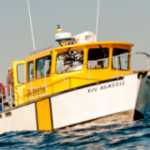 "How do scientists assess the health of Lake Superior" is the focus of free scientific excursions that will be offered at the Strawberry Festival from 1 to 5 p.m. Saturday, July 9, 2016, departing from the Chassell marina.
The public is invited to sign up for free 30-minute scientific excursions aboard Michigan Tech's research vessel Agassiz by calling the Michigan Tech Center for Science and Environmental Outreach at 7-3341 or coming to the Chassell Marina dock on Saturday from 12:30 to 4 p.m. Spaces go quickly. Half of available spaces will be saved for onsite participants.
On each scientific excursion, Marcel Dijkstra, a Michigan Tech Great Lakes scientist, will demonstrate the use of sampling equipment to collect data on water clarity, temperature and turbidity that tells us about the health of the lake—Chassell Bay. Participants will explore the link between land uses and the health of the Great Lakes.
Read more at Tech Today, by Joan Chadde.