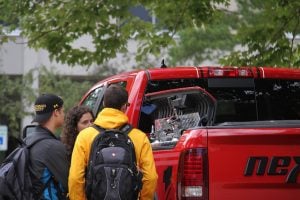 Thirteen automotive manufacturing and supply companies embark on campus today and invite students to engage with them.
Eighty-six percent of college students find it easier to engage with company reps in an informal and interactive environment, as opposed to a formal Career Fair.
For this reason, Career Services developed CareerFEST, an interactive event series on campus that encourages students to explore industries, discover careers, ask questions and meet employers before the Fall Career Fair.
Automotive Day kicks off the first of seven industry-related events in September. From 11 a.m. to 2 p.m. today (Sept. 7, 2017), in the center of campus, company reps showcase their latest innovations and technologies through live demonstrations.
This year's Automotive Day theme is Autonomous. Nexteer Automotive has a simulator that allows students to experience what it will be like in an autonomous world. The Michigan Tech Autonomous program and Jeremy Bos (ECE) have partnered with General Motors to display their latest autonomous vehicle build called "Buck."
Oshkosh Corporation is on hand with a JLG Scissor Lift, LATV (Baja Truck), Pierce 100ft Aerial Fire Truck and a HEMTT Wrecker.
A Grand Cherokee with Parallel and Perpendicular Park Assist is on display from FCA. Other display vehicles include a Ford Mustang, Ford Taurus, Audi A8 and an QSK 10 L engine.
Automotive Days sponsors include: Ford, Mitsubishi Electric Automotive America, Cooper Standard, General Motors, Cummins, Continental, Oshkosh, FCA, HUSCO International, ArcelorMittal, Yanfeng Global Automotive Interiors, Nexteer Automotive and Faurecia.
Representatives from the Advanced Power System Lab at Michigan Tech and additional Enterprise programs will also be on hand during the event. Last year, 68 percent of our students participated in CareerFEST events and 460 companies attended.
By Career Services.
Enterprise Team shows off product
HOUGHTON, Mich. (WLUC) – Michigan Technological University students showed off their experience at Automotive Industry Day last week.
The Formula SAE Enterprise Team caught attention with their formula-style racecar.
MTU seniors choose between senior design class or one of five enterprise teams.
The formula team I knew I wanted to be a part of before I even got to Tech. Formula SAE Enterprise Team president Cora Taylor
Read more at TV 6 Upper Michigan's Source, by Mariah Powell.