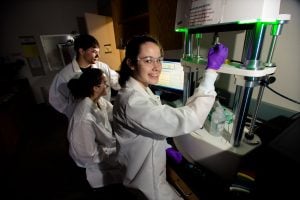 Biomedical engineering is a rapidly growing and evolving field. The need to have a well trained workforce with the ability to integrate life sciences, engineering, and the practices of modern medicine is a pressing issue.
The Department of Biomedical Engineering is offering four new minors related to biomedical engineering beginning Fall 2018:
Biomaterials Engineering
Biomedical Engineering
Medical Devices and Instrumentation
Tissue and Stem Cell Engineering
The minor programs will help to prepare students for careers in the medical device or related industry sectors. They may pursue graduate study at the interface of life science and engineering. The minors also help prepare students for professional careers, such as medicine, dentistry, physical therapy, or occupational therapy.
Michigan Tech invites students from all disciplines to learn the fundamental concepts of biomedical engineering. The minors are structured in such a manner that they are accessible to a broad range of majors, such as materials science and engineering, chemical engineering, electrical engineering, general engineering, and mechanical engineering. Science majors can take these minors if the pre-requisite math and engineering courses are met.
Students will broadly understand key concepts and principles of biomedical engineering. They will develop the beginnings of an understanding of how the life sciences and other engineering disciplines can be integrated to solve biomedical engineering problems.