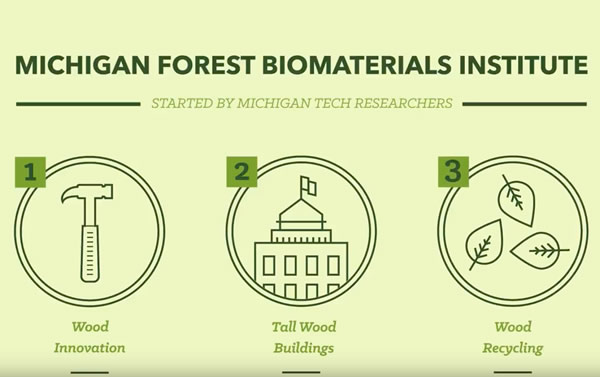 According to Mark Rudnicki, a professor of practice in forest biomaterials at Michigan Technological University, Michigan ranks ninth in the nation in acres of forest cover. It's also home to several forest-related industries, including forestry and logging, wood products manufacturing and paper manufacturing. In 2013, Michigan Tech initiated the development of a broad coalition – with members from Michigan industry, government and academia – to facilitate the cultivation of new ways to use forest biomaterials.
The initiative has evolved into the Michigan Forest Biomaterials Institute (MiFBI) and Rudnicki is its executive director.
Read more and watch the video at Unscripted: Science and Engineering Research, by Stefanie Sidortsova.
The mission of the Michigan Forest Biomaterials Institute (MiFBI) is to enhance quality of life in Michigan by fostering sustainable forests, communities, and economies through innovative and responsible production, use, and recycling of forest biomaterials.
MIFBI invites individuals and corporate entities (businesses, institutions, associations and government agencies) supportive of developing a forest bioeconomy in Michigan to join MIFBI as a Regular or Associate member.