Brimley Area School Students Visit Michigan Tech
Thirty middle-school students, plus two science teachers, and two chaperones from Brimley Area Schools visited Michigan Tech and the Keweenaw Peninsula from Sept. 28-30, 2016. The outreach event was hosted by Ted Bornhorst, Executive Director, A. E. Seaman Mineral Museum, and Joan Chadde, Director of the Center for Science & Environmental Outreach. The Brimley Area Schools student population is 54 % Native American and 51 % low income. Students participated in a half-day of STEM activities on campus with Brian Barkdoll and "Kiko" de Melo e Silva, faculty and research scientist, respectively, in the Department of Civil and Environmental Engineering, and Dr. Sarah Sun in Mechanical Engineering-Engineering Mechanics.
"We were pleased to provide this unique opportunity for the Brimley students that may spark their interest to pursue a STEM degree at Michigan Tech," explained Bornhorst.
"This was a great group of students," observed Chadde. "We plan to work with them to make this an annual visit."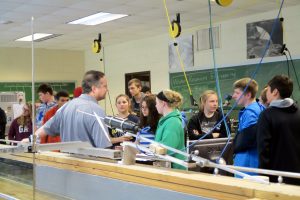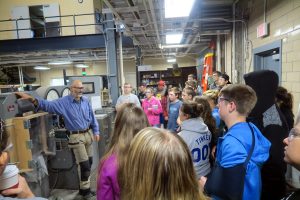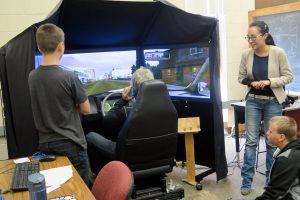 SIS & SAAM Hold Annual Meeting
The students of SIS (Society of Intellectual Sisters) and SAAM (Society of African American Men) alumni participated in several STEM activities just like their parents did at Tech! Joan Chadde facilitated several Family Engineering activities for the students, who ranged in age from 3-17 years. A favorite activity is the "Hot Chocolate Machine where students stack 10-15 cups to let gravity do its thing and mix the milk power and cocoa powder—and Voila! Hot chocolate!"