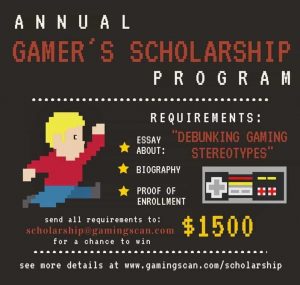 Calling out all student gamers and gaming enthusiasts!
GamingScan is giving out $1500 through their Annual Gamer's Scholarship Program.
Are you up for it? Here's what you need to do:
In not less than 500 words, write a compelling essay about this year's chosen topic: "Debunking Gaming Stereotypes". We want to see the most common stereotypes about gaming and gamers, and then a contrasting explanation of what or how it really is in real life. You may include your own experience or those of people you know.
Write a short biography (100) about yourself and include at the bottom of the page a personal information section (full name, age, address, school, contact number and you're all-time favorite game).
Email the essay and biography (.docx) along with a copy of your school's admission form to

scholarship@gamingscan.com

.
Applications due May 10, 2018