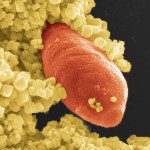 by Dennis Walikainen, senior editor, Michigan Tech
Ancient "giant" spearheads and spindles have been discovered deep within New Jersey rock formations by a team of scientists.
These biominerals are actually about four microns long–hundreds would fit on the period at the end of this sentence. But they are much larger than those previously discovered and have huge potential regarding global warming yesterday, today and tomorrow.
These magnetofossils are new to the biomineral world, according to Michigan Tech paleomagnetist Aleksey Smirnov, a member of the research team. They discovered that 55 million years ago, the earth warmed by 6 to 8 degree Celsius after huge amounts of organic carbon entered the atmosphere. Although this ancient global-warming episode–the Paleocene-Eocene Thermal Maximum (PETM)–remains a mystery, it might offer analogies for future environmental impacts of possible global warming.