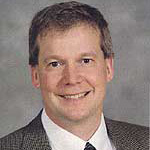 • Dr. John Gierke was named Michigan Distinguished Professor of the Year in 2007
• Presidents Council of the State Universities Article
The College of Engineering has announced that Professor John Gierke has accepted a one-year appointment as interim chair of the Department of Geological and Mining Engineering and Sciences.
Gierke takes on the duty while Chair Wayne Pennington serves as a Jefferson Science Fellow with the US Department of State.
Gierke received his bachelor's and master's degrees in civil engineering and his doctorate in environmental engineering from Michigan Tech.