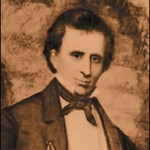 • Daily Mining Gazette Article
• Video about Douglass Houghton at Pasty.com
US Postal Service Honored Douglass Houghton Bicentennial with a Pictorial Cancellation was held Saturday, November 7, 2009 in Houghton, Michigan
The United States Postal Service had a bicentennial pictorial cancellation to honor Douglass Houghton at Douglass Houghton Hall on Michigan Tech's Campus.
Limited quantities of a special bicentennial post card were available at cost (50 cents) displaying Robert Thom's painting of Houghton at Eagle River, Michigan in 1840, in full color, at the November 7th event.
For those not able to attend the event who would like to have letters or postcards stamped with the special cancellation stamp may send their pre-addressed and postage paid items to the Houghton Post Office at the following address:
Pictorial Postmarks
Douglass Houghton Hall Station
701 Shelden Avenue
Houghton, MI 49931
This service will be provided by the Houghton post office for 30 days following the event. First Class postage for letters is 44 cents and for postcards is 28 cents.
Allan Johnson, organizer of the pictorial cancellation on behalf of the Keweenaw National Park Advisory Commission was master of ceremonies for the brief program to recognize Houghton's great accomplishments during his short life. Houghton was born September 21, 1809 and drowned in Lake Superior on October 13, 1845 while working on the combined linear-geologic survey he was directing. He was only 36 years old.
Several of Douglass Houghton's direct descendents were at this event and shared family information on their famous ancestor.
If you have any questions, contact Allan Johnson at 482-9097 or at amj@mtu.edu.
---
Douglass Houghton Bicentennial Celebration
US Postal Service Pictorial Cancellation
November 7, 2009
Douglass Houghton Hall
Michigan Tech Campus
Program 1:00 PM
Introduction: Allan Johnson: Moderator, Commissioner, KNHPAC
Michigan Tech welcome: Dale Tahtinen, MTU Vice President
City of Houghton welcome: Scott MacInnes, City Manager
US Postal Service: Tracy Hokenson, Houghton Post Master
Recognize US Senators/First Congressional District Representative/Aides
Sen. Carl Levin/Amy Berglund
Sen.Debbie Stabenow/Sheri Davie
US Representative Bart Stupak/Amy Wisti
KNHP: Jo Urion, Park Historian
Keweenaw County Historical Society: Virginia Jamison
Direct descendents of Douglass Houghton
Kermit Morgan – Great, great grandson
Susan Morgan-Kosier – Great, great, great granddaughter
Gary Morgan – Great, great, great grandson
Jonathon Kosier – Great, great, great, great grandson
---