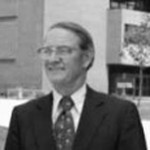 Former Michigan Tech President Ray Smith is featured in a story in Arizona's Green Valley News and Sun.
The story chronicles how Smith and three other men locate old hazardous mining sites in 10,000 square miles of south-central Arizona. They pinpoint the location, record data on the environment and wildlife, and erect safety signs.
Smith says the members of the group, called the Hazardous Abandoned Mine Finder, share a "love for the desert and the never-ending quest for minerals." Smith, who is 93, was president from 1965-79. He had written a story about HAMF in the August issue of the Minerals, Metals and Materials Society.