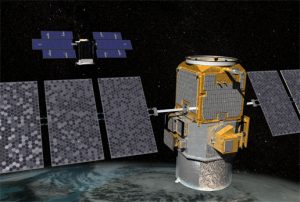 Mark Kulie (GMES) is attending the NASA CloudSat/CALIPSO Annual Science Review meeting in Boulder, Colorado. The meeting runs April 23-25, 2018.
Kulie will present a talk entitled "Modern Global Snowfall Datasets: CloudSat's Contribution." This talk summarizes many recent and ongoing collaborative projects to develop and optimize global snowfall datasets using satellite observations.
In Print
Mark Kulie (GMES) and Lisa Milani (GMES) recently authored a manuscript entitled "Seasonal variability of shallow cumuliform snowfall: A CloudSat perspective". This article was published in the Quarterly Journal of the Royal Meteorological Society. The study illustrated the global seasonal cycle of lake/ocean-effect snow using satellite-based radar observations.
https://doi.org/10.1002/qj.3222
Extract: Cumuliform snowfall seasonal variability is studied using a multi‐year CloudSat snowfall rate and cloud classification retrieval dataset. Microwave radiometer sea ice concentration datasets are also utilized to illustrate the intimate link between oceanic cumuliform snowfall production and decreased sea ice coverage.