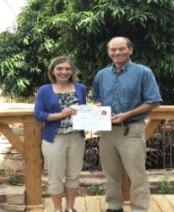 Katie Kring, a third-year student in geological engineering, has received the Andrew Mozola Scholarship from the Michigan section of the American Institute of Professional Geologists (AIPG). She won for her essay, "Why I Want to be a Geologist."
Kring first discovered geology when her sophomore high school class visited a Superfund site. Most of the students were bored; Kring says she was fascinated. A summer geology program cemented her interest.
"This past spring semester was the most challenging semester of college I have undertaken to date," Kring wrote in her prize-winning essay. "My courses included geophysics, structural geology, statics & mechanics of materials and petrology. While the classes were demanding, I did not waver from my desire to become a geologist. In fact, these classes only reinforced my passion."
She plans to use the AIPG scholarship to fund summer field work. When she finishes her BS in geological engineering, she hopes to work in the mining field.
Students can apply for AIPG membership online.
By Jenn Donovan.