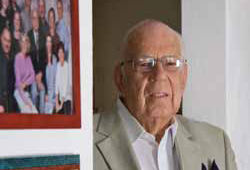 Edwin "Ned" Johnson "wants to stay close to what's worthwhile," and that includes his family, friends, and his alma mater.
Ned's college education was sidetracked by World War II and a stint as a POW. He came back to Michigan Tech on the GI Bill, earning his bachelor's degree in metallurgical and materials engineering in 1947. Currently, the retired president of Cleveland-Cliffs (now Cliffs Natural Resources) lives in Florida but summers in the Upper Peninsula, visiting family, Tech, and "getting together with the old Cliffs gang once a month in Ishpeming."
Along with his many years of annual giving, he supports Michigan Tech through deferred charitable gift annuities. He also stays connected to Tech through the University's estate planning seminars and alumni events.
"I do what I can," Ned says. "I can't say enough about Tech. You get a great education at a reasonable cost, compared to many other schools. And, with the gift annuities, I can accomplish two of my goals, helping my kids during their retirement years and supporting the University."
Talking to a group of Tech students some years ago, he recalled telling them that he "went to Tech BC: before computers, before calculators, before coeds." Johnson appreciates the new Michigan Tech, too, and likes the direction the University is taking.
"They've added so many more advanced programs," he says. "And there are a lot of good people up there."
Hence Ned's steadfast support over the years, including contributions to an endowed scholarship fund in his and his late wife Lois's name, Huskies athletics, and an American Institute of Mining Education scholarship.
"I'm thankful for my Tech education," he says. "And I'm glad I can give something back."
*Please note: Since your gift annuity benefits may be different, you may want to click here to view a color example of your benefits.