Submitting forms in a timely manner is essential for students to complete their degree requirements. Students can find a checklist of items needed at this time and a comprehensive list of items pending and complete for each degree on MyMichiganTech. See our tutorial for a walk-through.
Today's blog post provides instructions for filling out the Degree Completion Form. The Degree completion form is mandatory for all the graduate and doctoral program students and needs to be submitted to the Graduate School on paper or via email to gradschool@mtu.edu. 
Where Do I Find the Form?
Students can now see a personalized list of items they need to complete for each graduate degree on MyMichiganTech. If a degree requires a dissertation, thesis, or report, this form is mentioned under a separate section on MyMichiganTech detailing the items necessary to complete the defense and written document. The Degree Completion form can be found on the Forms and Deadlines or by clicking here.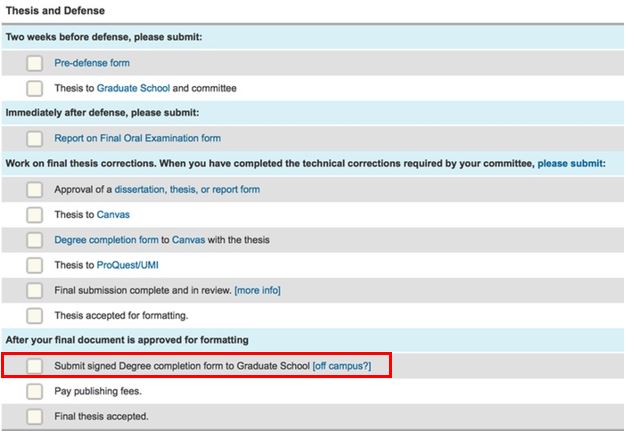 Please note that this form, like many of our forms, is dynamic. As a dynamic form, it will only work in Adobe Acrobat or Reader.  If the hyperlink above doesn't open the PDF as expected, we recommend right clicking on the link, selecting "Save link as…" (or similar option in your browser) and saving the file.  If you are still having trouble opening the form, check out this link which offers some more troubleshooting options. After you have saved the file, open Adobe Acrobat or Reader and open the saved form.
Now that you know where to find this form and where we can open it, let's talk about filling it out.
Online Questionnaire
Before filling out the personal and degree details, please complete the online questionnaire by clicking on the gray box at the right corner which will direct you to the questionnaire page. Your feedback is important and helps us improve our programs.

Providing Personal Information
The first few blocks are pretty self-explanatory; enter your last name, first name, optional middle initial, and M Number in the appropriate boxes. If you do not know your M number, fret not, you can always find it on MyMichiganTech. You may choose the way you want your middle name to appear on the Diploma, provided it can be supported with legal documentation such as a passport or visa.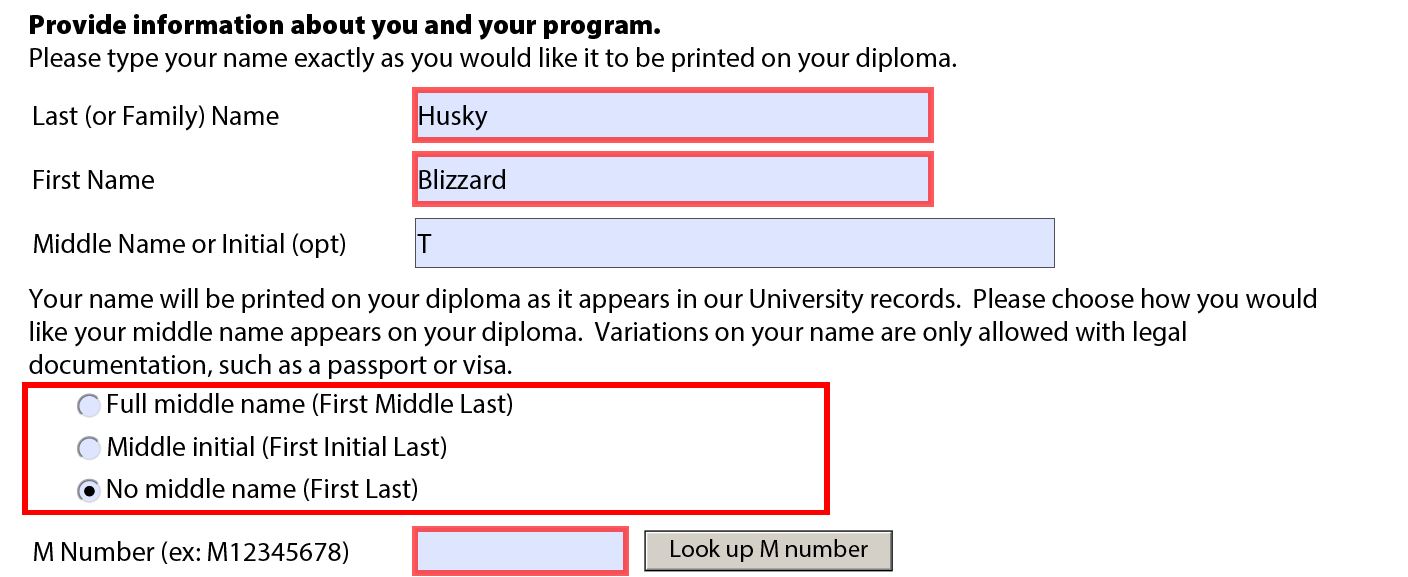 Entering Degree Information
Once you have your M Number entered, move on to selecting your degree type. Depending on your degree, there are a few options you will need to select from before moving on to the next step.
Doctor of Philosophy

(PhD) Options

If you are a PhD student, you can select the graduate program from the drop down list.

PhD students are required to complete the Survey of Earned Doctorates in addition to the aforementioned questionnaire by clicking on the button at the right corner which will direct to the survey page. Please keep in mind that the Survey of Earned Doctorates is a checkbox on your MyMichiganTech student checklist, so you will need to complete this in order for all of your boxes to be checked.

Master of Science (MS) Options
If you are an MS student, you will see three degree options appear as shown below. Please indicate whether you are pursuing the coursework option or are preparing a thesis or report. After you have done this, you will be prompted to select your Graduate Program from the drop-down menu.

Master of Forestry (MFor) Options
If you are an MFor student, you will see two degree options appear as shown below. Please indicate whether you are preparing a report or have chosen the coursework option.


Master
of Geographic Information Science (MGIS)

Options

If you are an MGIS student, you are considered a coursework only student and will only see that option.


Master
of Engineering (MEng) Options
If you are a MEng student, there is no degree option to choose. You need only select Non-Departmental as the Graduate Program.


Master of Business Administration (MBA)

Options

If you are an MBA student, you are considered coursework only and will only see that option.

Entering Contact Information
In this section of the form, you will have to provide us with two email addresses so that we can contact you. One of these emails should be your on campus email (ending with @mtu.edu) and the other should be an alternate E-mail address (for example: ending with @gmail.com, @yahoo.com, @hotmail.com, etc.). Once you have entered these, please select your location from the listed  options. You may choose to provide the mailing address at a later date but please remember to provide it to us. If you choose the third option, that is "in Houghton, but leaving soon", please specify the date of leaving Houghton.

The next step is to provide your mailing address . You may also choose to provide an address at later date. Please note that it is essential for all students to provide an accurate address to the Graduate School following graduation. If you are sending your diploma to someone's address other than your own, please be sure to include a "care of" (ex: c/o Blizzard T Husky) in the address to ensure successful delivery.

Naming Your Advisor/Co-Advisor
Now you need to name your Advisor/Co-Advisors. You should name one of your advisors in the "Advisor Name" line. If you only have one advisor, choose "No" to the co-advisor question and proceed to the next step. If you have a co-advisor, please choose "yes". By choosing "yes" you will see the image below prompting you to provide information on both of your co-advisors.

Commencement Information
In this section, you can choose when you want to attend the commencement program. More information about the commencement program can be found by clicking at the Commencement Information box at the right corner or by clicking this link.
If you choose to attend the commencement program in future, please provide with details of semester and year you will be attending. Please remember that selecting "Do not plan to attend commencement" indicates that you NEVER plan to attend commencement.

Information on Future Plans
This section of the form asks you about your future plans. Please select the appropriate response from the drop down box.

If you are accepting a full time or part time professional employment, please provide information about your future employer, as shown below.

If you are leaving the campus for further studies or post-doc, specify the University details as shown below.

Information on Provisional Certificate Letter and Ordering Transcripts
The Graduate School will issue a letter of provisional certification if requested by the student through the degree completion form. The student must have completed all the requirements for an advanced degree, including submitting the thesis, dissertation, or report to the Graduate School. A provisional certification may be needed if an employer requires proof of degree completion well in advance of receipt of the official certification of the degree.
Your Michigan Tech transcripts can be ordered in a variety of ways. To order transcripts, please click on the Order Transcripts button in the right corner and select one of the methods from the options listed to order your transcripts.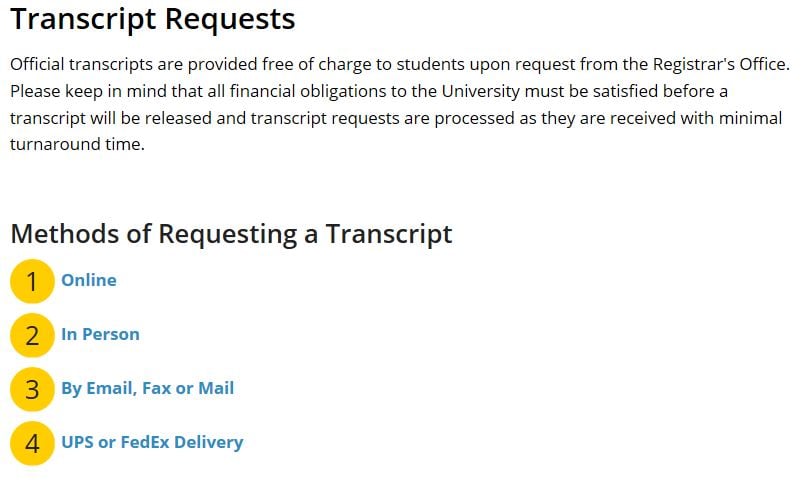 You are all set with the form. Do not fill in any further information.
Good luck with your future endeavors! Feel free to contact us at gradschool@mtu.edu if you have any questions or need assistance.