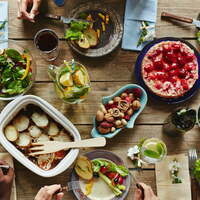 Have you considered going vegan but don't know where to start?  Join us for a discussion about a vegan diet, how and why you might consider going vegan, and sample a vegan tasting menu catered by the MUB.
This Lunch and Learn is presented by Silke Feltz, PhD candidate who studies the rhetoric of veganism, and hosted by Employee Wellness and WorkLife Connections. It will be held from noon to 1 p.m. Tuesday, March 6, in Memorial Union Alumni Lounge.Register here.  Space is limited.
A sample of vegan foods and refreshments will be provided. This free event is open to faculty, staff and students. Email Shannon Brodeur with questions.
 Tuesday, March 6 at 12:00 pm to 1:00 pm