Almost invariably, when one acts they commit that act with a specific goal in mind. The reason why we move is to get from point A to point B, and the reason why we drink is to quench our thirst. In the office it is the same, we create checklists with the goal of ensuring full completion of tasks, and we flip off light switches to reduce the amount of electricity used. Acting with a purpose is quite important, but it is also important to consider the side effects of our actions and the side effects of our processes.
Side effects can manifest themselves in many forms, both positive and negative. The positive side effect of turning off a light switch could be that natural light is easier on the eyes, while a negative effect could be a lack of vision in some areas. Though it must be noted side effects as with intentional results often interact with many other systems, and can change when other systems change as well.
It is also worth recognizing that the value of a side effect can be greater than the intended result itself, though comparing value is often a difficult task itself. To again use the light example, it is very likely that a lack of vision is far costlier than the small amount of money saved from turning off the light, or perhaps the area is well enough lit with natural light.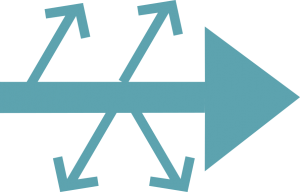 There are many Lean related tools that can assist in understanding the side effect of processes, even when this revelation is itself a side effect of the Lean tool. Mapping out a process in its entirety can lead to an understanding of many of the detailed side effects involved. Furthermore, a SIPOC (a tool designed to analyze the inputs and outputs of a process) can help one understand the big picture behind a process. Knowing the side effects of a process is an important part of continuous improvement as one cannot improve that which one does not know.
Overall, it is clear that processes and actions are not merely standalone, they often interact with others and produce side effects. These side effects come in all manner of forms, and recognition of these forms is significant for finding areas that need improvements.