Over break we patched Windows 10 lab systems and podiums to the latest build from Microsoft. Updating to the latest build provides several performance improvements including an improvement to the start menu functionality.  However the process requires you to go thru a user profile update the first time you log back in.
We highly encourage Faculty and Staff that teach in the labs and computer classrooms to go and log on to the machines they are going to use now, before they are standing in front of class the first day.
The process again should take approximately 2-8 minutes depending on the speed of the computer.  This will only happen the first time after you login to an updated machine and at logoff will be uploaded to the server.
The reason this happens is that Microsoft has changed its approach to updating, instead of releasing a new operating system every 3-5 years they will be rolling out updated builds for Windows 10. Every time one of these builds comes out they currently require a profile conversion. As this is a new process for Microsoft and us and we are working to make it as smooth as possible.
With the upgrade some items where shifted on the start menu. To logoff you can click on your user Icon, which is now on the bottom left of the start menu. It should display as the Michigan Tech logo by default.
<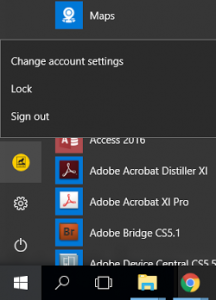 An alternative method is to right click on the start menu icon. You will see the following menu: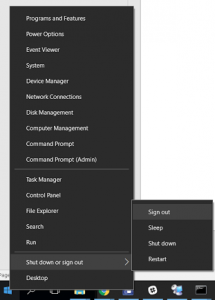 As before there is also a Log Out icon on the desktop that can be used as well.
Again, Please try to get logged into the teaching locations before your first day of class to avoid having the profile process eat up valuable teaching minutes.
If you experience any issues please give us a call at 906-487-1111 or let us know at it-help@mtu.edu.