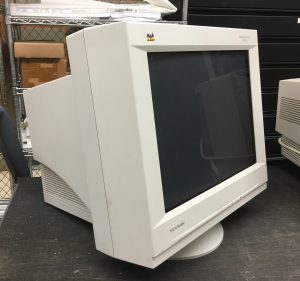 Michigan Tech IT would like to arrange for a campus-wide Cathode Ray Tube (CRT) equipment recycling effort. A CRT is an older, bulkier type of TV or monitor. This type of equipment isn't recycled locally, so it takes a little more planning to arrange for it to be removed in a cost-effective and environmentally responsible way.
If you have CRT equipment in your department you'd like to recycle, please fill out the Google form below:
https://goo.gl/forms/yY05GMHVdkojN96D3
Once we have a better idea of quantity, we will work with Environmental Health and Safety (EHS) to choose the best method of removal and provide you with more information on what it will cost the departments.
Please note: Facilities will not pick this equipment up for disposal.
If you have any questions or concerns regarding CRT recycling, please contact IT Help at it-help@mtu.edu or 7-1111.