All posts by sbrodeur
---
---
From Tech Today:
Jason Carter, chair of kinesiology and integrative physiology, has been elected to the American Kinesiology Association (AKA) Executive Committee.
"I'm honored that my AKA colleagues have elected me to represent them as a member of the Executive Committee," says Carter. "AKA is a preeminent society in kinesiology, whose primary aim is to promote and enhance kinesiology as a unified field of study in the United States."
AKA advocates for kinesiology at both national and international levels, and supports its member departments by providing resource materials and leadership and educational opportunities for university administrators in kinesiology.
"Jason has served on the board of directors for three years, and during that time he was a member of the Membership Committee and currently serves as chair," says Amelia Lee, executive director of AKA. "As a direct result of his efforts, we are gaining new members on a regular basis. He believes in and supports the AKA mission, and it was because of his hard work and commitment that he was selected to serve on the Executive Committee. Jason is a great contributor, and we are sincerely grateful to have him working with us. He is outstanding in every way."
Carter is finishing a three-year appointment on the AKA Board of Directors, and his new duties will commence January 1, 2015
---
---
The Department of Kinesiology and Integrative Physiology is pleased to announce the addition of a Master of Science in Kinesiology.  Both a thesis option and coursework option will be offered.  Please contact Dr. Jason Carter at jcarter@mtu.edu or 906-487-2715 for more information.
---
---
Chair and Associate Dean Jason Carter (KIP) was interviewed on the US Department of Health and Human Services podcast, "Health Beat." The topic was his research on fish oil's effect on heart health under stressful conditions. Hear the podcast online.
---
Professor Jason Carter, department chair, published an article titled, "Fish Oil and neurovascular Reactivity to Mental Stress in Humans," in the May issue of the American Journal of Physiology–Regulatory, Integrative, and Comparative Physiology. The journal is published by the American Physiological Society. It is available online.
---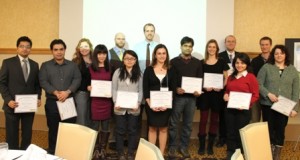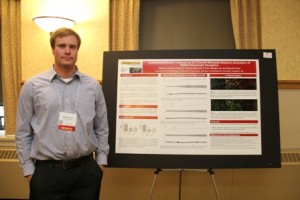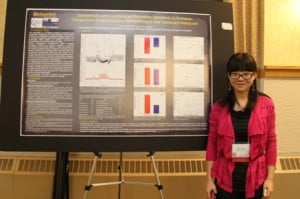 The main events of this symposium were a Poster Presentation Session and a Research Colloquium sponsored by the Graduate Student Government
Event photos and videos provided by Michigan Tech College of Engineering: Promoting interdisciplinary research
---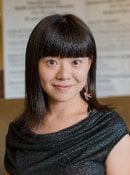 Congratulations Huan Yang for receiving one of the Outstanding Scholarship Awards from the Graduate School.  Huan is a Biological Sciences PhD student who has been working in Dr. Jason Carter's integrative physiology lab the last 4.5 years. She is expected to graduate this summer and has a post-doctoral fellowship offer from a productive group of sleep physiologists at Harvard.
Huan was recently first author on some research from our laboratory, and that work was selected by the Editor-In-Chief of the American Journal of Physiology – Heart and Circulatory Physiology for their popular podcast series.  Briefly, the journal editor and editorial board select 2-3 articles per month to highlight with a 10 minute podcast with the senior author, associate editor, and another expert in the field.  This podcast was posted here yesterday.
---