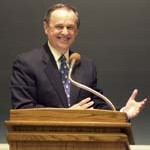 • View the news article
Michigan Tech will enshrine seven new members in its Sports Hall of Fame during induction ceremonies scheduled for Saturday, Nov. 7. Among the inductees will be alumn John Opie, who received a BS in Metallurgical and Materials Engineering in 1961. He is the retired vice chairman of the board and executive officer of General Electric. He was also president and chief executive officer of GE Lighting.
Opie has been an extremely generous supporter of Michigan Tech athletics, as well as endowing Materials Science and Engineering and contributing to the library.
• Seven Added to Michigan Tech Sports Hall of Fame
• John and Ruanne Opie Library
• Opie Gives $250,000 to Hockey Campaign
• GE Executive Will Speak at MTU's Commencement
• GE Exec Gives Major Gift to Michigan Tech
• Read More About John Opie