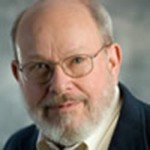 • View the Tech Today news article
• View the Daily Mining Gazette news article
Professor Emeritus Richard Heckel passed away Tuesday, May 25, in Wisconsin Rapids, Wis., following a battle with pancreatic cancer. Heckel, the former head of the materials science and engineering department at Carnegie Mellon University, was recruited in 1976 by then-President Dale Stein to join the Michigan Tech faculty. For 20 years he was a professor of materials science and engineering, known both for his rigorous teaching and dedication to research. Upon his retirement in 1996, he formed the consulting firm Engineering Trends, capitalizing on his longstanding interest in engineering education.