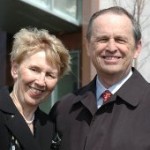 • View the news article
At a campaign kickoff dinner, Mroz also announced two new $1 million gifts, one from Tom Shaffner and the other from John and Ruanne Opie.
John Opie graduated from Michigan Tech in 1961 with a Bachelor of Science in Metallurgical and Materials Engineering. He spent most of his career with General Electric, retiring in 2000 as vice chairman/executive director. He delivered Tech's commencement address in 1987 and again in 2001, receiving Honorary Doctorates in Engineering and Business.
Opie and his wife, Ruanne, recently donated $1 million for the construction of ten new skybox suites in Michigan Tech's John MacInnes Student Ice Arena. The new suites, all on the west end of the rink, can accommodate eight to fourteen people each and three skyboxes for larger groups. The Opies previously funded a 54,000-square-foot addition to the library and established an endowment to support the Department of Materials Science and Engineering.