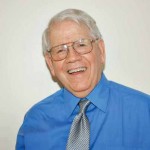 • View the Michigan Tech News article
• View the Daily Mining Gazette article
One of Michigan Technological University's most generous benefactors and his wife, Franklin and Lorraine St. John, have recently established a $1 million charitable trust to support the Generations of Discovery Campaign.
St. John earned a BS in Metallurgical Engineering from Michigan Tech in 1960. Since then, he has received numerous honors from his alma mater, including an Honorary Doctorate of Metallurgical and Materials Engineering and the Board of Control Silver Medal. Additionally, he has been inducted into what is now the Academy of Materials Science and Engineering.