Archives—March 2012
---
Associate Professor Joshua Pearce (MSE/ECE) presented a lecture, "Campus Energy Paradigm Shift: Examining Diverse Campus Strategies Resulting in the Largest Carbon Pollution Reductions, Cost Savings and Student Learning Benefits," sponsored by the National Wildlife Federation at the Ninth Ball State University Greening of the Campus Conference in Muncie, Ind.
While at the conference Pearce also presented two additional papers on solar photovoltaics and open-source research in applied sustainability.
From Tech Today, March 27, 2012.
---
Assistant Professor Yongmei Jin (MSE) will present "Domain Microstructure Evolution and Magnetomechanical Property of Giant Magnetostrictive Materials" at 4 p.m., Thursday, March. 29, in Dow 642. The public is welcome.
---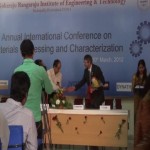 Dr. Jaroslaw W. Drelich has delivered the keynote address on Antibacterial Mineral-Copper Materials during the 2nd International Conference on Materials Processing and Characterization in Hyderabad, India, March 8-10, organized by the Gokaraju Rangaraju Institute of Engineering and Technology (GRIET). The two-day conference was attended by more than 100 participants from India, Australia, Poland, and USA, who discussed recent advances made in materials science, metallurgical engineering and manufacturing.
---
Professor Stephen Kampe (MATH/IMP), "High Density Metallic Structural Reactive Materials," DoD Army
Professor Stephen Kampe (MSE/IMP) and Research Professor Stephen Mashl (MSE/IMP), "Melt Spin Processing of Advanced Al- and Mg-Alloys
---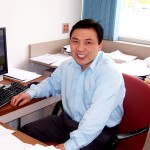 Associate Professor Yun Hang Hu (MSE) was one of only 20 solar energy researchers worldwide to receive an all-expenses-paid trip to the US-Egypt Joint Workshop on Solar Energy Systems and Materials in Cairo. The workshop was held March 12-14 and was sponsored by the National Science Foundation. The title of Hu's invited talk was "Graphene for Solar Cells."
---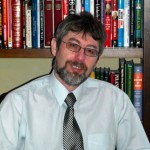 Assistant Director John Diebel (IIE) has received $45,217 from the University of Michigan-Michigan Initiative for Innovation and Entrepreneurship for a project, "Bench Scale Synthesis of Antimicrobial Vermiculite and its Stability Characteristic Determination." The Co-PI is Associate Professor Jaroslaw Drelich (MSE). The two researchers will collaborate with the Institute of Materials Processing (IMP).
---
---
2012 MSGC Awards Announced
Michigan Tech faculty, staff members and students received awards tallying $101,875 through the Michigan Space Grant Consortium (MSGC), sponsored by the National Aeronautics and Space Administration (NASA), which includes 11 university members.
Among the undergraduates receiving $2,500 research fellowships were Meredith Mulder (Materials Science): "Synthesis and Characterization of Multifunctional Vermiculite Containing Carbon Nanotubes and Metallic Nanoparticles" and Bradley Villeneuve (Materials Science): "Formulation and Antimicrobial Testing of Vermiculite Coated with Copper Nanoparticles."
Among the graduate students receiving $5,000 fellowships was Patrick Bowen (Materials Science): "Exploring the effect of group IV elements on the mechanical and corrosion performance of magnesium."
Read more at Tech Today, by Lisa Wallace.
---
Tech Arts Show winners
The main event of the Tech Arts Festival was the art show, which was held in the Peninsula Room of the Memorial Union Building. MSE major Ben Wittbrodt won for Best Overall Photograph.
Read more at the Michigan Tech Lode.
---