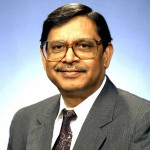 • View the news article
"We need to excite American students about the STEM fields, and if you excite the teachers, they excite the students," Rath explains. He has successfully talked the Office of Naval Research into funding summer teachers' camps.
Bhakta Rath '58 is the associate director of research and head of the Material Science and Component Technology Directorate of the US Naval Research Laboratory. Rath earned his Master of Science in Metallurgy from Michigan Tech in 1958 and received an honorary doctorate in engineering when he spoke at Tech's December 2007 Commencement. In 2008, he was elected to the National Academy of Engineering.