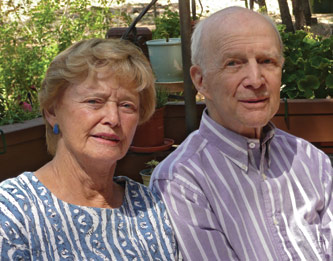 Michigan Technological University gave Richard Henes an education that enabled him to found and run several successful companies. Now he's giving back to Michigan Tech—again.
Henes and his wife, Elizabeth, are donating $1 million to endow the Richard and Elizabeth Henes Professorship in Mathematical Sciences at Michigan Tech. The couple endowed a chair in mechanical engineering in 2002, held by John W. Sutherland, professor of mechanical engineering and director of Michigan Tech's Sustainable Futures Institute. Their longstanding support of the University has earned them membership in the Hotchkiss and Hubbell Societies for lifetime giving and the McNair Society for their estate gift commitments.

"With this latest generous gift, Dick and Liz Henes have challenged Michigan Tech to continue building a stellar mathematical sciences faculty and to tackle significant problems facing humankind through exceptional research and teaching," said Glenn D. Mroz, president of Michigan Tech.
A native of Menominee, Mich., Henes earned a Bachelor of Science in Mechanical Engineering from Michigan Tech in 1948, followed by a law degree from the University of Michigan. After moving to Arizona, he founded Henes Manufacturing Company, Henes Products and Henes Stamping. He also became a successful real estate investor in Phoenix.
Henes has retired from all but real estate investing. He and his wife divide their time between Paradise Valley and Flagstaff, Ariz.
Henes credits Michigan Tech with stimulating his interest in mechanical engineering and his determination to excel at whatever he did. For many years, Henes has had an active interest in mathematics, and he regards it as the essential building block of all scientific and technological disciplines. He and his wife are committed to helping the University hire and keep top-notch faculty and prepare the next generation to compete in a demanding technological world.
"Liz and I have decided to invest our resources in what will help the world, and Michigan Tech is our choice," said Henes. "What we are doing through this gift is small, compared to what Michigan Tech can do for the world."
The Henes professorship is the first named faculty position in the College of Sciences and Arts.
"Endowed faculty positions are a pivotal feature of research universities, for they enhance the productivity of faculty, allowing exciting and promising projects to get started, then move forward, and reach completion more quickly and completely," said Bruce Seely, dean of sciences and arts at Michigan Tech. "For this reason, we know that Richard and Elizabeth Henes' hopes for making a difference with their gifts will certainly be realized. I could not be more thrilled that they have chosen to present the first such endowed professorship in the College of Sciences and Arts to mathematical sciences, which has been conducting increasingly recognized research in a number of areas, including statistical genetics."
The new professorship will be awarded to Shuanglin Zhang, a professor of mathematical sciences widely known for his research in statistical genetics. He won Michigan Tech's 2008 Research Award for research into the genes associated with inherited diseases such as type II diabetes and amyotrophic lateral sclerosis.
"It is an honor to be the first Henes Professor," said Zhang "I would like to thank Mr. Henes for his contribution. I will use the funding to support graduate students and post-docs. Mr. Henes's contribution will certainly strengthen my research and will help the development of the department as well."
Mark Gockenbach, chair of mathematical sciences at Michigan Tech, added: "It is gratifying that such a successful engineer and businessman would recognize how central the mathematical sciences are to Michigan Tech. This is also a well-deserved honor for Shuanglin, who has done so much for the department and continues to work at very high level in spite of the physical challenges he faces. And the Henes Professorship will help the department to continue to build a highly productive and innovative faculty."
Michigan Technological University is a leading public research university, conducting research, developing new technologies and preparing students to create the future for a prosperous and sustainable world. Michigan Tech offers more than 120 undergraduate and graduate degree programs in engineering, forestry and environmental sciences, computing, technology, business and economics, natural and physical sciences, arts, humanities and social sciences.