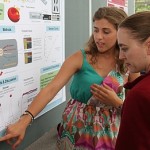 The Center for Diversity and Inclusion sponsored this year's MiCUP/MI-LSAMP Research Gallery Walk, held on Thursday, June 20, in the Rozsa Center Lobby.
The event recognizes the research of students participating in the seven-week Michigan College/University Partnership Program (MiCUP) and the Michigan Louis Stokes Alliance for Minority Participation (MI-LSAMP) Program here at Michigan Tech.
Michigan Tech is partnered with MI-LSAMP to continue our shared goal of increasing the number of underrepresented minority and first-generation students in STEM and non-STEM fields.