Construction began on a new Physics and Mathematics Building in 1962. Shortly before the groundbreaking, James Fisher, Jr., passed away. Fisher had been Professor and Department head of Mathematics and Physics for over 40 years, on the faculty for 50 years, and after his mandatory retirement in 1944, he remained active, especially with the alumni association. He was a Michigan Mining School graduate (1893) and Hancock native and he was much respected in the community. In recognition of his contributions to Michigan Tech and the community, the new building was named for him and was dedicated to him when it opened in 1964.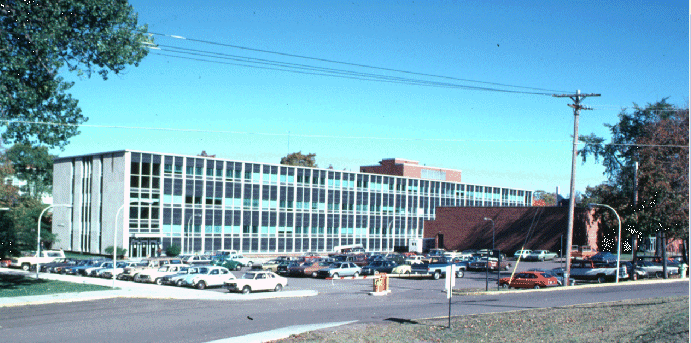 Fisher Hall in 1981, from the US-41 Side (the back)
Fisher Hall currently houses the departments of Physics and Mathematical Sciences. Up until 2004, it also housed Computer Science. Fisher Hall has a large number of classrooms which are used by many other departments on campus. Of the academic buildings on campus, it is now one of the oldest.
An addition, named the Kanwal and Ann Rekhi Computer Science Hall, was added during 2003-2004 to the West side of the building (to the left in the picture above) largely to house computer science faculty and classrooms. During the summer of 2006, some of the classrooms and public areas inside Fisher Hall received a much-needed face lift.