Fred Walter McNair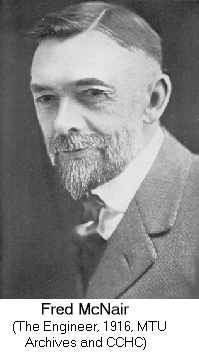 b. 3 December 1862, Fennimore, WI
d. 30 June 1924, in a train wreck near Buda, IL.
B.S. U. of Wisconsin (1891)
Hon. D. Sc., Lafayette College (1907).
Hon. D. Sc., Rhode Island State College (1919).
Inst. Mathematics, U of Wisconsin 1889-1891
Asst. Prof. Math, Michigan Agricultural College, Fall 1891-1893
Prof. Math and Physics, Michigan College of Mines, 1893-1924
President, Michigan College of Mines, 1899-1924
During World War I worked with U.S. Bureau of Standards and later worked on firing methods for large Naval guns (unpublished).
Member of Grace United Methodist Church in Houghton. His home was at the corner of Houghton and Hubbell Ave, where the Southwest corner of the Memorial Union is currently located.

Memberships/Honors
American Physical Society (Fellow)
AAAS (VP for Sect. D 1906)
American Institute of Mining and Metallurgical Engineers (AIME)
Metals and Mining Society of America
Lake Superior Mining Institute
Tau Beta Pi
Phi Beta Kappa
President, Society for the Promotion of Engineering Education 1904/05
Three different MTU buildings were named for him — 2 academic and one residence hall.
Publications
(list likely not complete – McNair listed as sole author on all)
"Simple Huyghen's apparatus for the optical lantern," Nature 53, 535 (1895/96).
"Note on a simple method for Newton's total reflection experiment," Science 5, 620-621 (1897).
"College View of Mining Graduate," Proc. Lake Superior Mining Inst. Vol VII, 101-106 (1901).
"The Divergence of Long Plumb Lines at the Tamarack Mine," The Engineering and Mining Journal 73, 578-580 (1902).
"Divergence of Long Plumb Lines at the Tamarack Mine," Science XV, No. 390, p 994 (June, 1902). Reprinted in Terrestrial Magnetism and Atmospheric Electricity, Sept 1902, pg 143.
"The Divergence of Long Plumb Lines at the Tamarack Mine," Electrical World and Engineer XXXIX, No. 17, 721-723 (1902).
"How Bodies Fall in Deep Vertical Shafts," Mining and Scientific Press, Vol XCIII No. 2, 56-57 (July 14, 1906).
"An Experiment on Easterly Deviation Beneath the Earth's Surface," Science XXIII, 415-416 (1906).
"Some Problems Connected with Deep Mining in the Lake Superior Copper District," Proc. Am. Assoc. Adv. Sci., Meetings 56 & 57, 447-456 (1907).
"Note on a Method in Teaching Optical Mineralogy," American Journal of Science, Series 4 Vol. XXXI, 292-296 (1911).