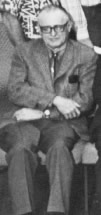 Charles Earle Mandeville III passed away on January 14, 2003. Mandeville was a nuclear physicist who became head of the Physics Department at Michigan Tech in the early seventies. He worked at such places as MIT, the Bartol Research Foundation, University of Alabama at Tuscaloosa, Kansas State University, and Kaman Nuclear. His research interests involved gamma-ray spectroscopy, and he did early pioneering work on beta decay of nuclei. Mandeville was a musician and a collector of antiques and art objects. He settled in Socorro, New Mexico after retirement. He was a man of many accomplishments and will be missed by all who knew him.
Posted Fall 2003 in Physics News.
Please feel free to leave comments on your experiences with Charles Mandeville.