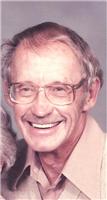 Robert A. Janke, who loved cross-country skiing, indulged a pronounced sweet tooth, mainly in the form of pies, and devoted himself to his work at Michigan Tech and on Isle Royale, died Wednesday, Dec. 22, at PortagePointe. He was 88.
Janke taught at Tech for more than 40 years—first physics, then biology. His specialty was plant ecology, in particular the identification of the flora of Isle Royale, where he also studied forest succession–from both natural change and from fire–as well as the effects of moose on the forests.
Colleagues recall Janke as physically fit, intellectually solid, and socially inclined. "He just liked people," said Ken Kraft, a colleague. "He loved to lead a group on weekend cross-country skiing outings."
Kraft, a former associate professor, first met Janke in 1961. Kraft described Janke as both a park naturalist and a scientist on Isle Royale, where he worked every summer, beginning in the 1940s. "He had an affection for Isle Royale," Kraft recalls. "He'd still be there if he could."
Professor Emeritus Rolf Peterson, who first met Janke in 1967, recalls him as "a very cheerful guy who was helpful and reliable." Peterson didn't work with Janke, but they both worked extensively on Isle Royale, so they crossed tracks often. Peterson described Janke as a man of integrity and accomplishment–"known for his work in forest ecology for many decades, and one of the first two forest ecologists at Tech."
Janke, who retired in the early 1980s, earned a bachelor's degree in physics from the University of Michigan, a master's in physics from Michigan Tech, and a doctorate in biology from the University of Colorado.
Janke attended Portage Lake United Church, in Houghton, where he was active in the choir. He also enjoyed singing in the Copper Country Chorale and the Ecumenical Choir, and he enjoyed folk dancing.
In 1944, he married the former Nadine Key. The couple lived first in Houghton and then Boston Location. His wife preceded him in death in 2006.
Surviving are four children, seven grandchildren and six great-grandchildren.
Posted January 4, 2011, in Tech Today.
Robert A. Janke
Read more at the Mining Gazette.
Please feel free to leave comments on your experiences with Robert A. Janke.