Fred Walter McNair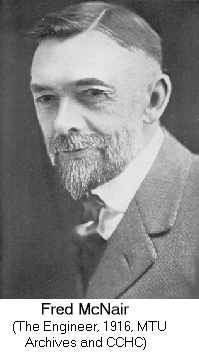 b. 3 December 1862, Fennimore, WI
d. 30 June 1924, in a train wreck near Buda, IL.
B.S. U. of Wisconsin (1891)
Hon. D. Sc., Lafayette College (1907).
Hon. D. Sc., Rhode Island State College (1919).
Inst. Mathematics, U of Wisconsin 1889-1891
Asst. Prof. Math, Michigan Agricultural College, Fall 1891-1893
Prof. Math and Physics, Michigan College of Mines, 1893-1924
President, Michigan College of Mines, 1899-1924
During World War I worked with U.S. Bureau of Standards and later worked on firing methods for large Naval guns (unpublished).
Member of Grace United Methodist Church in Houghton. His home was at the corner of Houghton and Hubbell Ave, where the Southwest corner of the Memorial Union is currently located.
Continue reading →