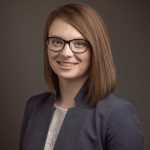 I was speechless as I read the acceptance email from the Central Michigan University (CMU) College of Medicine in October 2017. Starting in fall 2018, I get to dive into the first year of my medical training in a program that could not be a better fit for me.
CMU College of Medicine's commitment to rural and underserved populations in Michigan, research opportunities in neuroscience, and smaller class size immediately piqued my interest when I was deciding where to apply. I felt very at home with the school's mission and curriculum structure that includes a longitudinal patient care experience. I was glowing with excitement after my interview experience at CMU.
While being accepted to medical school has been awesome, my journey to this point has been full of twists and turns. Some students know medical school is their goal when they start college. I was not one of those people. I'm majoring in biomedical engineering, and was initially interested in graduate school or working in the industry. I even spent a year double majoring in materials science and engineering. Three years in, the sum of my undergraduate experiences showed me that medical school was what I really wanted to do, since it would allow me to combine my passion for science with helping others in a very direct way.
I was able to accomplish more during undergrad than I had ever imagined.
During my fourth year, I had to take many of the medical school prerequisite classes that were not part of my engineering curriculum and build a Medical College Admission Test (MCAT) study plan into my schedule. It's OK if you're not on the pre-med track right away when you start college; pursue experiences that genuinely interest you and rely on guidance from your faculty mentors to navigate your path.
There's a lot of pressure to have as many leadership roles as possible and be involved in tons of student organizations. For me though, having a few deep and lasting experiences was the way to go. I chose to invest my time in research, improving my Spanish, and volunteering.
Starting in the Engineered Biomaterials Lab during my first year and sticking with it through my fifth year gave me the time to learn how to think critically and ignited my passion for science. I started off simply learning about biomaterials from older students in the lab, then gradually worked up to doing my own experiments and eventually presenting at conferences. It definitely didn't happen overnight, but by choosing to make research a main priority each semester, I was able to accomplish more during undergrad than I had ever imagined. Consistently spending time in the lab over four years helped me form close relationships with my faculty mentors, which has been invaluable on my journey to medical school.
Pursue experiences that genuinely interest you.
It may be counterintuitive to take time away from the rigorous curriculum while at Tech, but spending a semester in Chile focusing on language, culture, and people challenged me in ways that technical classes couldn't, and was critical in my preparation for medical school. If you're thinking about studying abroad, do it. Communication and understanding different cultures are crucial skills for anyone entering the medical field, and medical schools look for applicants who make the effort to broaden their horizons culturally.
Another great way to prepare for being a doctor is to spend time volunteering in the community. The options can be limited here in Houghton, but I have really enjoyed working with Little Brothers Friends of the Elderly. They have many different programs and services. As part of the Forever Friends program, I am matched with an elderly woman who I visit a few times a month. I've formed a great friendship with her, and hopefully, help alleviate some loneliness. It's a win-win!
Dedicate your time to quality experiences that allow you to serve others, grow as a person, and grow as a scientist. Stick it out through the difficult classes and demanding schedules. The future doctor in you knows it's worth it.