"Nothing can dim the light that shines from within." – Maya Angelou
---
Film Board Presents: Frozen 2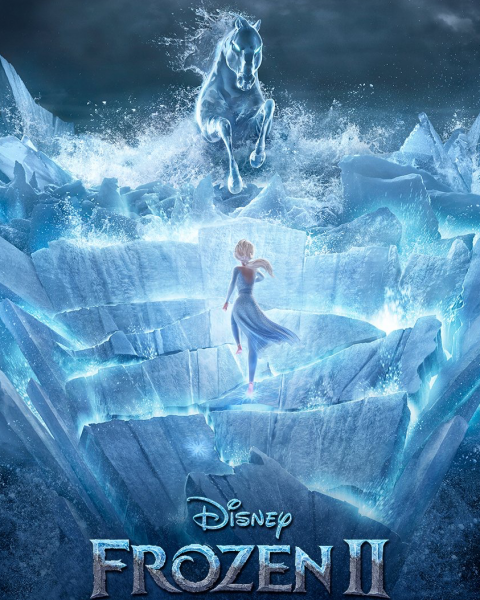 This weekend, Film Board Presents:

Frozen 2

Friday, February 21st @ 5:30, 8:30, 11:30
Saturday, February 22nd @ 2:30, 5:30, 8:30, 11:30
Sunday, February 23rd @ 2:30, 5:30

Located on Michigan Tech's campus in Fisher 135. Tickets are $3 and concessions are $1 each. All are welcome to attend! We hope to see you at the show this weekend and have a great day!

Frozen 2 is rated PG for action/peril and some thematic elements

Want to see what movies we're playing next? Check out our movies and showtimes at the Film Board website: filmboard.mtu.edu
---
Escape Rooms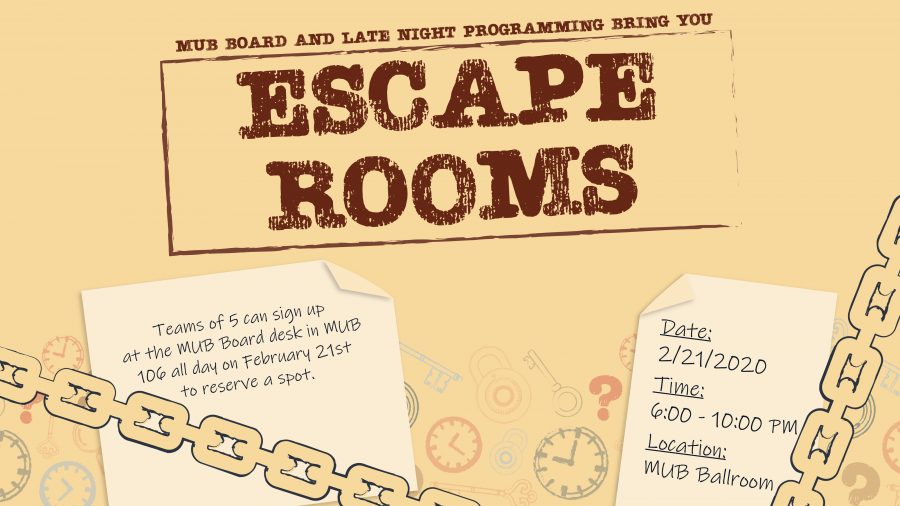 Can you escape?
On February 21st from 6-10 pm, assemble your team and get ready to battle the clock. Make your way out by finding clues, putting together hints, or perhaps finding a secret key to freedom!
Teams of 5 can sign up at the MUB Board desk in MUB 106 all day on February 21st to reserve a spot for this event.
Follow us on Instagram and Facebook to keep up to date with our latest events
---
Built World Enterprise Information Session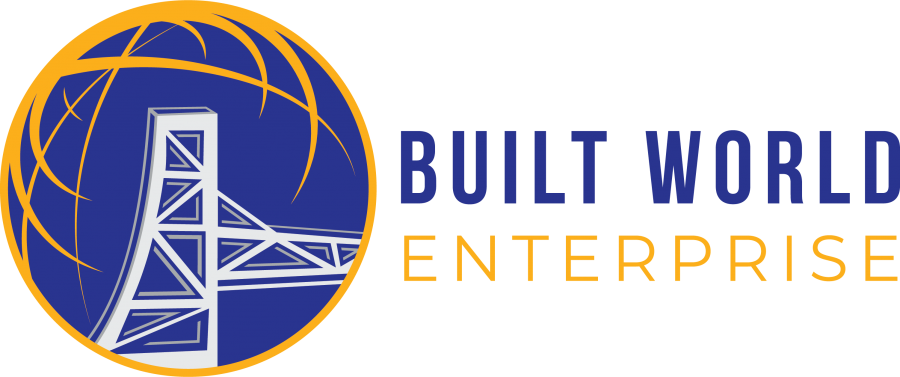 Are you interested in joining an enterprise? Built World Enterprise is hosting on information session on Tuesday, February 25th at 5:00pm in Dillman 204.
Built World Enterprise (BWE) currently participates in the Airport Cooperative Research Program University Design challenge that promotes student involvement in solving issues related to airports and the National Airspace System through innovative approaches. We are still a new enterprise and there is plenty of opportunity to shape the path of BWE. Any major is welcome to participate in the enterprise.
---
William Gleason Shihan Aikido Seminar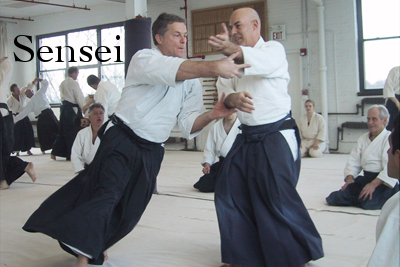 Register now for the William Gleason Shihan Aikido Seminar February 28 through March 1 in the SDC Studio. This is a rare opportunity to train with a world class Aikido instructor in a small intimate setting. Gleason Shihan will focus on the internal applications of Aiki to one's Aikido practice. We encourage all of our Aikido brothers and sisters to join us in training.
Session 1: Friday, February 28, 8:00-10:00 pm
Session 2: Saturday, February 29, 11:15am-1:45pm
Session 3: Saturday, February 29, 4:00-6:30pm
Session 4: Sunday, March 1, 11:00am-2:00pm
Open to all who are interested. Must be at least 16 years old or Level 4 (with permission of Sensei Campbell-Olszewski) to participate. Previous martial arts experience is helpful but not required.
Cost: Full seminar (all 4 sessions) $120, individual session $40. Registration for the full seminar closes February 28.
For more information or to register, visit Aikido Seminar.
---
Michigan Primary: Tuesday, March 10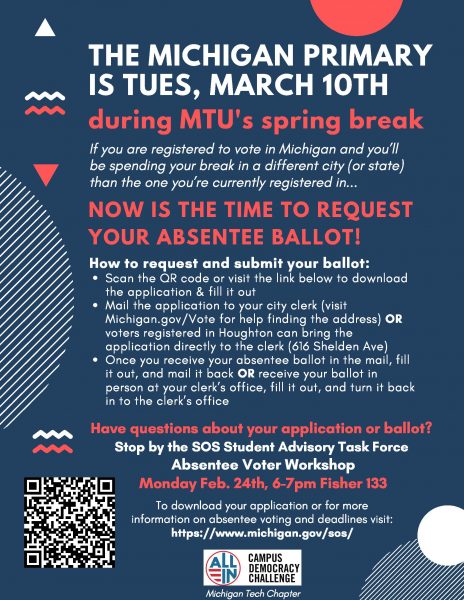 ---
I Love You, You're Perfect, Now Change Comes to McArdle
Patricia Helsel and the Tech Theatre Company are bringing you the longest running cabaret musical in history, I Love You, You're Perfect, Now Change! The show, based on the book by Joe DiPietro, with music by Jimmy Roberts, takes on the comedic side of love and marriage, painting a series of vignettes about relationships through the tumultuous dating scene, road trips, marriage, kids, and all the other troubles couples face. The show will run for seven nights: February 20-22 and 26-29, all at 7:30 PM in the McArdle Theatre on the second floor of the Walker building.
Tickets available two hours before the performance at the McArdle box office. The show contains adult language and situations.
---
Poetry Slam Featuring Ebony Stewart Friday, Backstage at the Rozsa!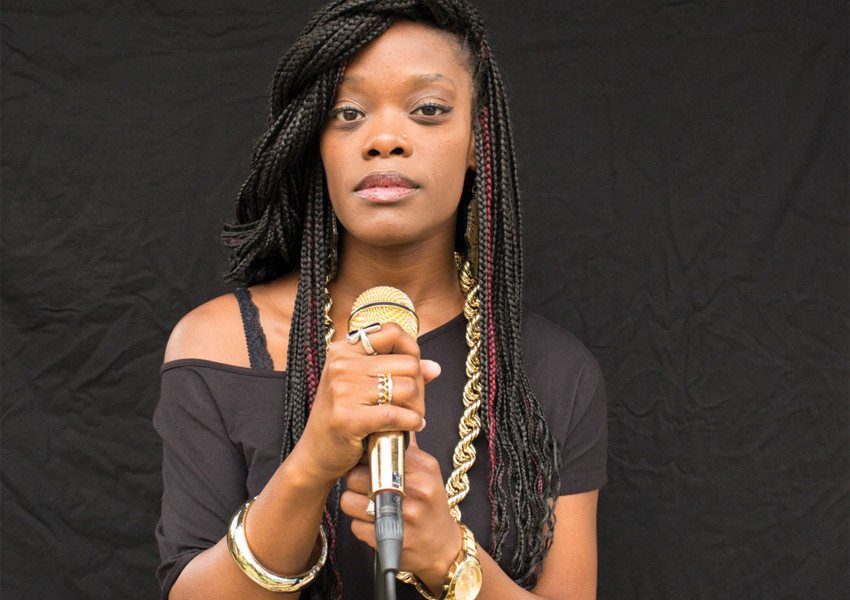 The Rozsa Center and the Black Students Association at Michigan Tech are proud to present Ebony Stewart, an international touring poet and performance artist. Her work speaks to the black experience, with emphasis on gender, sexuality, womanhood, and race, with the hopes to be relatable, remove shame, heal minds, encourage dialogue, and inspire folks in marginalized communities. As one of the most decorated poets in Texas, Ebony is one of the top touring poets in the country and a Woman of the World Poetry Slam Champion. The event will kick off with an open-mic poetry slam, then Stewart herself will take the stage on Friday, February 21 at 7:00 PM, in the "pop-up" club atmosphere of "Backstage at the Rozsa."
---
Marketing your International Experience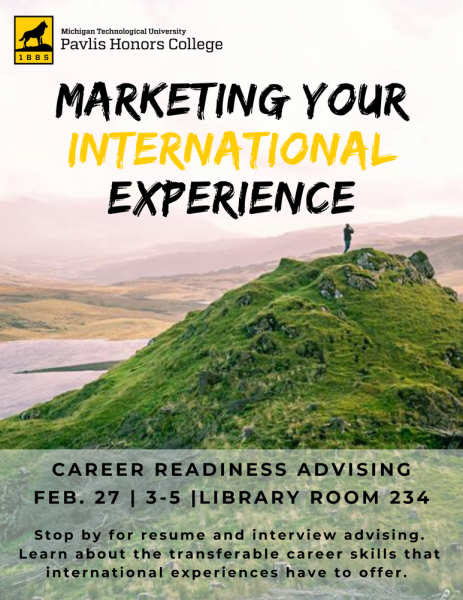 Marketing your International Experience
February 27th, 3:00 – 5:00 pm, Library 234
Having an international experience not only leads to significant personal growth, it also sets your apart from the rest of the applicant pool when applying for internships, graduate school and jobs.
International experiences make you desirable to future employers because of the skills and knowledge gained through valuable international exposure. The next step is to learn how to market these skills.
Drop in for an advising session to learn how to articulate your international experiences on your resume, cover letter, and during an interview.
Those who haven't had an international experience yet are encouraged to also drop in to learn about Michigan Tech's study abroad opportunities with International Studies Abroad (ISA).
---
Mechanical and Civil Engineering Study Abroad Info Session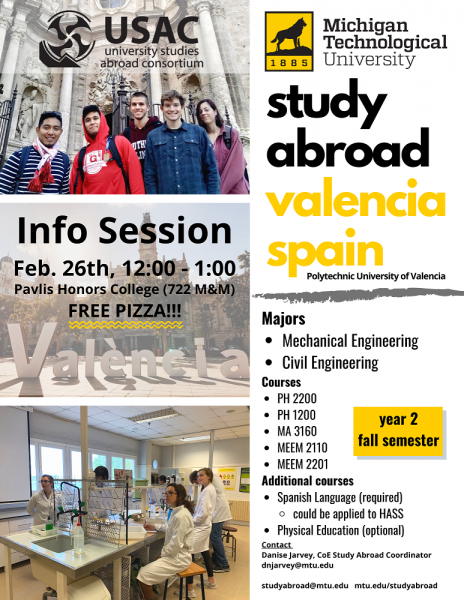 Mechanical and Civil Engineering – Study Abroad in Valencia, Spain
February 26th, 12:00 – 1:00, Pavlis Honors College (722 Minerals and Materials)
Attention Mechanical Engineering and Civil Engineering students! Are you trying to figure out a way to study abroad and stay on track to graduate? How does spending a semester in Valencia, Spain sound? We did the curriculum mapping work for you! Stop by the Pavlis Honors College on February 26th, 12:00 – 1:00, for some pizza and learn more about USAC's fall 2020 program in Valencia, Spain! Can't make the session? Email studyabroad@mtu.edu for more information.
---
Blood Drive Spring 2020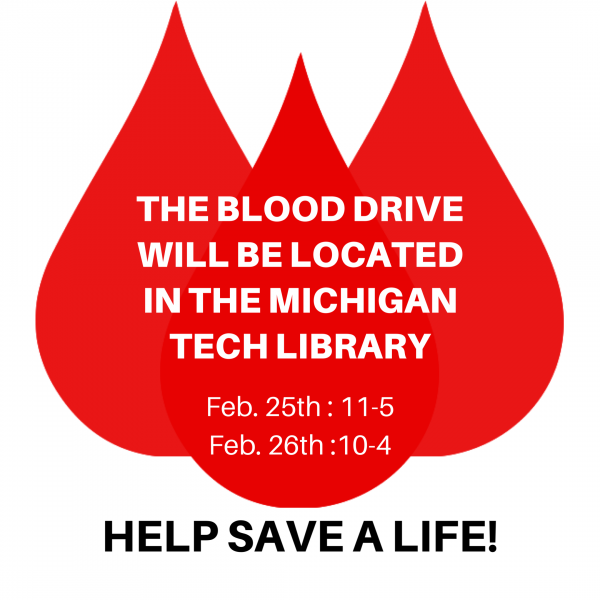 There is a constant need for blood donors and now the need is critical. The gratification is instant. Give blood.
Join Order of Omega from 11 a.m. to 5 p.m. on Tuesday, Feb. 25th and 10 a.m. to 4 p.m. on Wednesday, Feb. 26th in the Library's East Reading Room to donate blood.
Sign up for an appointment time online at the American Red Cross or call 800-733-2767. Walk-ins are always welcome. Click here for more information. Bring a photo ID.
---
MTU SDH Event: The Keweenaw's First Waste Reduction Drive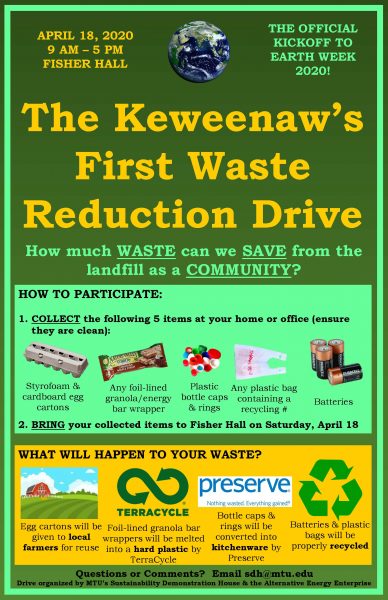 The Keweenaw's First Waste Reduction Drive!
Drive Date: Saturday, April 18th from 9am – 5pm in Fisher Hall
The official kickoff to the 50th anniversary of earth week!
Start collecting these five items now: granola/energy bar wrappers, batteries, plastic caps and rings, Styrofoam and cardboard egg cartons, and any plastic bag containing a recycling number.
How much WASTE can we SAVE from the landfill as a COMMUNITY?"
---
Family Friday Night Tonight at the SDC !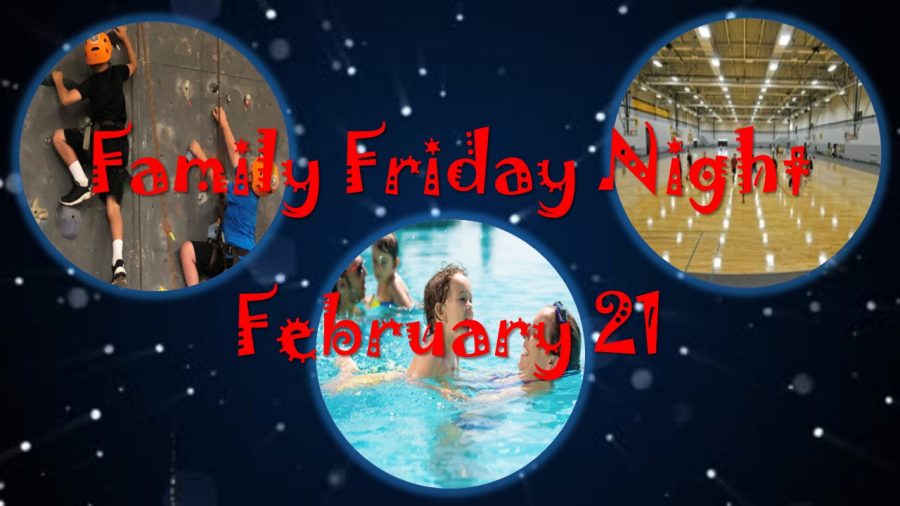 Enjoy family-friendly recreation time tonight (Friday, February 22) at the SDC! Open swim, climbing & more! Open to all ages. Free to Michigan Tech students, included in SDC membership and day pass.

For more information, visit Family Friday Nights.
---
Up Your Game with HuskiesFit Strength & Conditioning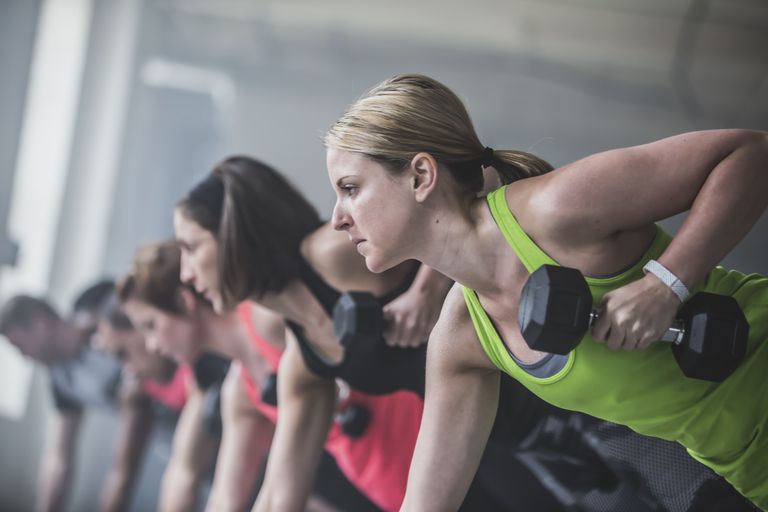 HuskiesFit Strength & Conditioning programs like Get Your Erg On!, Metabolic Conditioning, Spin Strong & TRX could be just what you need to up your game! Open to the public. Check us out today! #strength #huskiesfit

HuskiesFit Strength & Conditioning
---
Join SIS for the annual Bra Show!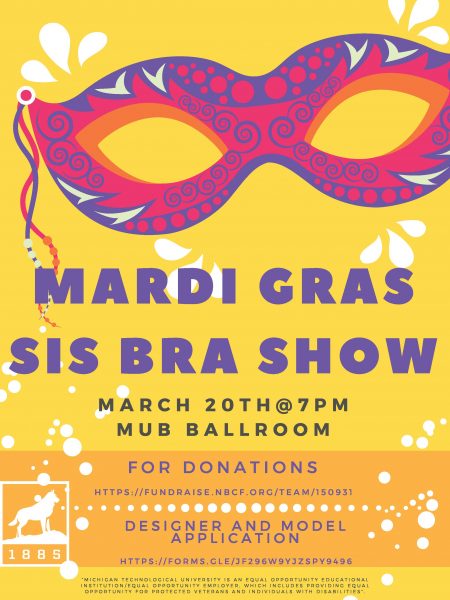 Join SIS for the annual Bra Show! This year's theme is Mardi Gras, so make sure to bring cash to vote for the people's choice bra and to donate. All proceeds will go to the National Breast Cancer Foundation! If you have any questions please email mharmon@mtu.edu
---
Nail & String Art Make Night at The Alley Makerspace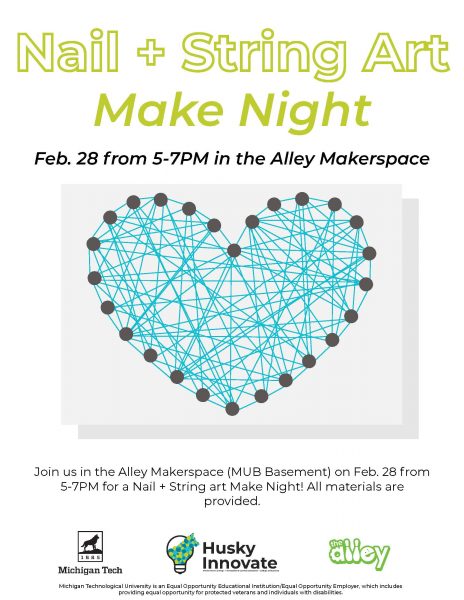 Nail & String Art Make Night at The Alley Makerspace
Friday February 28th, 5-7pm
Join us in the Alley Makerspace (MUB Basement) for a Nail + String art Make Night! All materials are provided.
---
Mub Board presents: Nick Thomas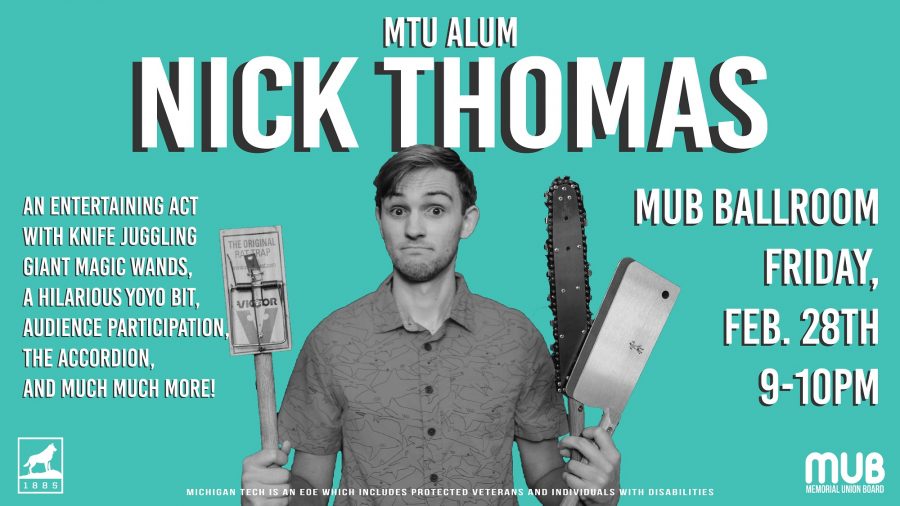 A recent MTU college graduate himself, Nick Thomas provides a fast paced variety show that will blow your mind. The act includes juggling, yo-yos, magic, comedy and more! As recently featured on ABC's "The Gong Show," this upcoming star will have you laughing with humor that every student can relate to. A 6 time world record holder, and gold medal winning juggler, Nick has performed internationally for companies like Comcast and Google. The unforgettable show has tons of audience participation, and a high tech LED juggling finale that you won't want to miss!
Follow us on Instagram and Facebook to keep up to date with our latest events!
---
Student Leadership Awards for SNB

Student Leadership Awards is a time to celebrate and reward the individual and group efforts of students involved in organizations across campus. At Michigan Tech we are blessed enough with students that are crazy smart. Now it the time to be recognized for your commitment, enthusiasm, and leadership.
On behalf of the University, we are seeking nominations for the President's Award for Leadership, Dean of Students Award for Service, and various other student leadership awards. The recipient of each award will be honored at the 26th Annual Student Leadership Awards Ceremony on Friday, April 17.
The nomination process is simple. All awards and information about each can be found online. For each individual award, simply click on the award title, then complete and submit the nomination form.
Nominations for the President's Award for Leadership and the Dean of Students Award for Service are due by 5 p.m. Friday, March 6. Nominations for all other Student Leadership Awards are due by 12 p.m. noon, Friday, March 20. Questions concerning the awards can be directed to Student Leadership and Involvement.
Take a minute to nominate a fellow student or organization today!
EF learning center is now accepting applications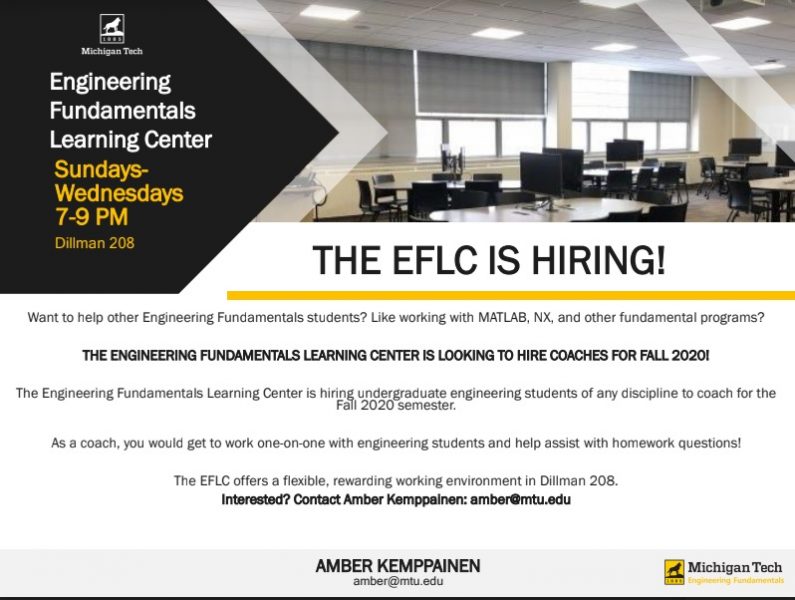 ---
Spaghetti Bridge Competition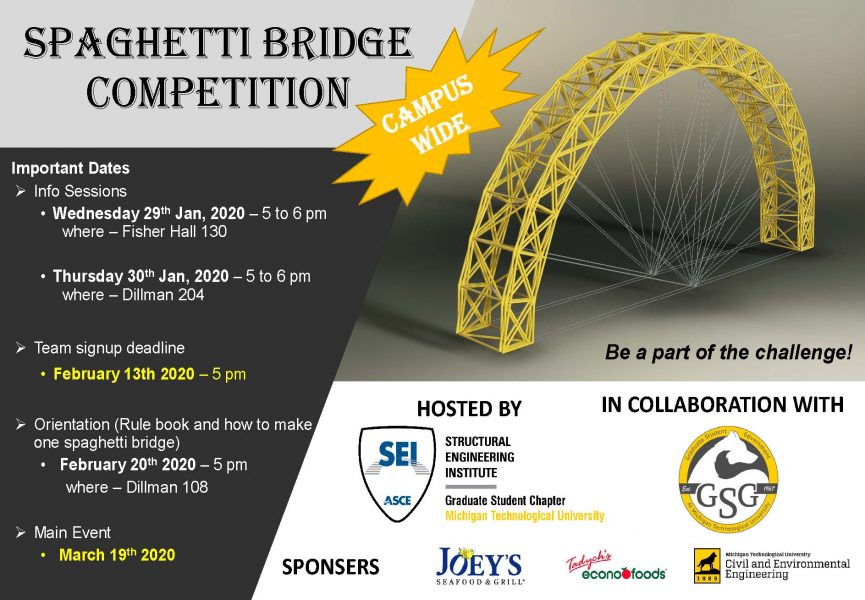 ---
Paper Airplane Trivia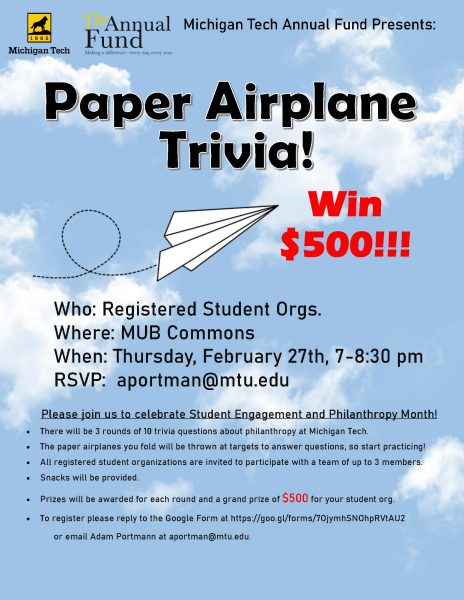 Attention Student Orgs!
Want to win $500?
Please join the Michigan Tech Student Foundation for Paper Airplane Trivia in the MUB Commons on Thursday, February 27th from 7:00 – 8:30pm!
There will be 3 rounds of 10 trivia questions about philanthropy at Michigan Tech. Paper airplanes that you fold will be thrown at targets to answer the questions, so start practicing!
Prizes will be awarded for each round and a grand prize of $500 for your student org.
All registered student organizations are invited to participate with a team of up to 3 members.
To register please reply to the Google Form at https://goo.gl/forms/7OjymhSNOhpRVtAU2 or for more information email Adam Portmann at aportman@mtu.edu.
---
2020 World Water Day Student Poster Competition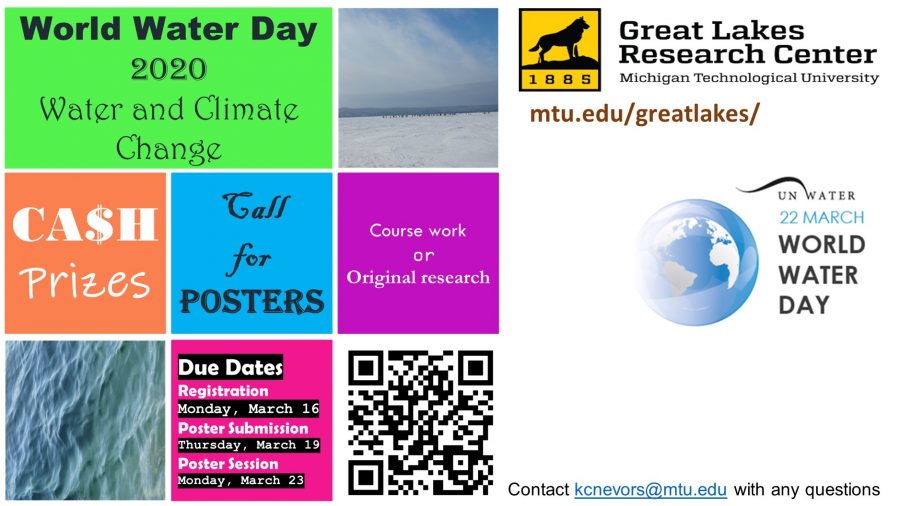 The 2020 World Water Day Student Poster Competition will take place on Monday, March 23rd as a part of Michigan Tech's World Water Day celebration. This is an excellent opportunity to highlight your work, practice effective science communication, and maybe win a cash prize!
Posters can be submitted in two categories: Original Research or Coursework-based Projects. Cash Awards will be offered in each category (1st-$300, 2nd-200, 3rd-$150), as well as one People's Choice Award ($$$). The poster competition will take place between 11:30-2:30 in DOW 804, 873, 875 – you DO NOT need to be available for the whole time period! You can register and share your availability using the link below.
Following your presentation to the judges, students are asked to participate in a public poster session from 2-4p in the MUB Ballroom. All posters (with a presenter present) are eligible for the People's Choice Award.
More detailed information can be found in the attachment. Thank you for sharing your exciting work with the community! Please contact Kevin Nevorski with any questions, kcnevors@mtu.edu.
---
CopperDog 2020 Volunteers

This year's CopperDog will take place February 28 – March 1.
Volunteer positions are steadily filling up but we still have some work to do to get to 100% staffed. We are expecting additional teams this year which means we need additional dog handlers throughout the weekend! If you are not interested in dog handling, but still would like to be involved, there are other volunteer opportunities available for both groups and individuals.
This year's volunteer training is scheduled for Saturday, February 22nd at 11 am in the Calumet High School cafeteria. We will have an indoor "classroom" portion of training first and then some outdoor hands-on training with teams of sled dogs.
---
Aikido Internal Power Workshop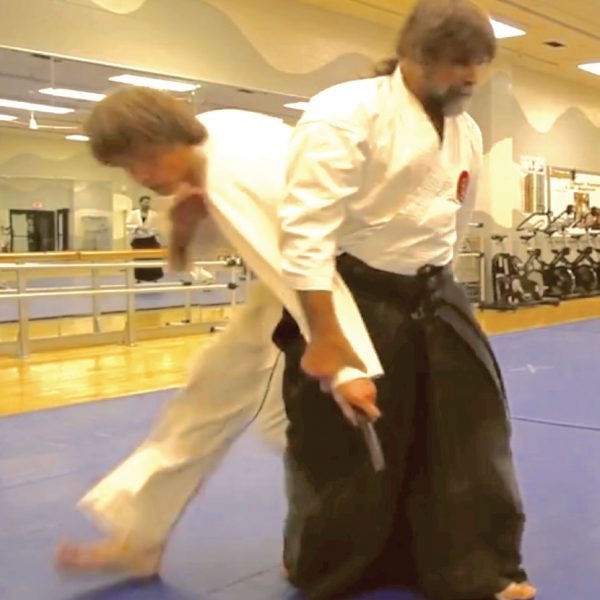 Sunday, February 16, 2020

SDC Studio
Cost: Free! Donations gratefully accepted to help fund future Aikido seminars with international instructors
What do snow removal, walking on ice, vacuuming, and managing disagreements have to do with the martial art of Aikido? Everything! Aikido principles allow us to improve our ease and effectiveness in daily living, physical and mental health, as well as self-defense. Who wouldn't want extraordinary stability, generation of explosive power, and the inexplicable zeroing-out of an opponent's force? Mastering Aikido secrets can be a game-changer for anyone involved in martial arts, yoga, meditation, sports, and achieving personal excellence.
Come join us for this introductory workshop to learn the foundational principles of Aikido. We will partner up to learn basic Aikido forms and the internal-power principles of aiki, the path to develop an extraordinary mind-body. This will be an active class, participants will be standing, bending, and twisting. (Rolling and falling are not required but for those interested and able it can add to the fun of training). Dress to move in work-out clothing or martial arts uniform.
Open to all who are interested. Must be at least 16 years old or Level 4 (with permission of Sensei Campbell-Olszewski) to participate. Previous martial arts experience is helpful but not required.