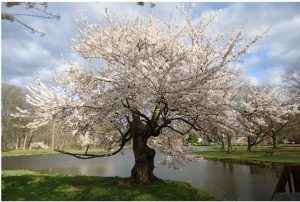 ---
Finish Ticket
Memorial Union Board presents: Finish Ticket! Saturday, April 20, at 9 pm, in the SDC Varsity Gym. The Headliner will be the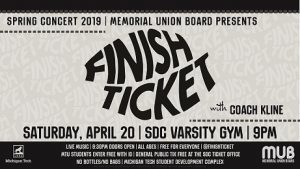 famous Finish Ticket, and the opening act will be Coach Kline (a Tech student Band).
Live music, doors open at 8:30 pm and it's free for everyone!
Must have an Michigan Tech ID with you to get in. General public can get in free as well.
---
OAP Silent Gear Auction
The Outdoor Adventure Program (OAP) will host its 12th annual gear auction Saturday, April 20, from 10:00am to 2:00pm in the Gates Tennis Center. New this year, OAP is coordinating with Athletics to auction some of their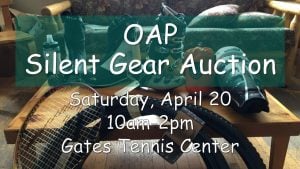 surplus equipment as well as used OAP gear.
Need to clear out your garage or storage unit? OAP wants to help you with your spring cleaning. Either have OAP sell your gently used (but still usable) outdoor recreation equipment on your behalf or consider donating it to the OAP and we'll use any proceeds to help purchase new equipment for the OAP rental program.
Items can be dropped off April 17-19 at the OAP during regular business hours.
Anyone interested in purchasing at the gear auction will need to register at the at the Gates Tennis Center the day of the event.
For more information, visit OAP Silent Gear Auction, email OAP at oap@mtu.edu or call 906-487-2290.
---
Celebrate Student Artists
Join us to celebrate student artists at Michigan Tech, and spend a relaxing evening enjoying artworks created in Visual Arts courses. The exhibit will be in an open house format Friday, April 19 from 6:00 to 7:30 p.m. The exhibition will be held in two locations; the hallway galleries outside of Walker 209, on the second floor of Michigan Tech's Walker Arts & Humanities bldg., and at the Studio for Here and Now, G04W Wadsworth Hall, across from WMTU.
This event is free and open to the public!
---
Semi-Annual Student Showcase – "Rock, Paper, Scissors"
The department of Visual and Performing Arts announces its semi-annual student showcase, "Rock, Paper, Scissors," featuring works of art created by Michigan Tech students in Project Learning Lab. Project Learning Lab is an innovative arts classroom based inside Rozsa gallery b. An opening reception will be held from  Friday, April 19th 5:00 to 6:30 pm. The exhibition runs Friday through Monday, April 19-22. Gallery hours are M-F 8:00 am – 8:00 pm and 1:00 – 8:00 pm on Saturdays, and the exhibition is free and open to the public. The reception is free and all are welcome.
The works on display were created by students in Lisa Gordillo's Traditional Sculpture Studio. Students from many campus disciplines are represented, including business, math, engineering and theatre. Students in the class study sculptural traditions from around the world, and create three-dimensional works using those traditions as a guide. This year, the class focused on Guatemalan cultures, and created barriletes (giant kites), nawales (personal symbols informed by the Mayan calendar) and Estelas (large carvings).
---
Keweenaw Symphony Orchestra
The Keweenaw Symphony Orchestra presents Gershwin's Rhapsody in Blue Saturday, April 20 at 7:30 p.m. in the Rozsa Center for the Performing Arts. Popularized in Disney's "Fantasia," Rhapsody in Blue will be performed along with the haunting ballet music to Stravinsky's Firebird Suite and the angst-ridden Chamber Symphony of Schoenberg.
Tickets are on sale now, $19 for adults, $6 for youth, and no charge for Michigan Tech students with the Experience Tech fee. Tickets are available by phone at (906) 487-2073, online at mtu.edu/rozsa, in person at the Central Ticketing Office in the Student Development Complex, or at the Rozsa Box Office the evening of the performance. Note the Rozsa Box Office only opens two hours prior to performances.
---
Tau Trot
Alpha Sigma Tau and Phi Kappa Tau will host their 1st annual Tau Trot Run/Walk Saturday, April 20, at 10:00 am. The race will begin in Hancock and end in Houghton.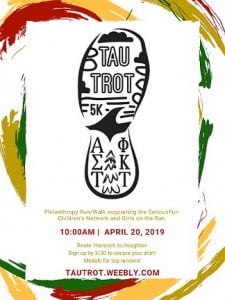 Want to help support a great cause? All proceeds will go to support Girls on the Run and the SeriousFun Children's Network. Participants will receive a commemorative t-shirt upon signing up. If you are not able to make it to race day, but would still like to participate, we have the option of a virtual 5k, in which you can run the race on your own time!
For more information, and to register, visit tautrot.weebly.com.
---
Spring Gallery Exhibition Salon!
The Department of Visual and Performing Arts and the Rozsa Center are excited to announce the spring gallery exhibition, Salon!, curated by gallery director and Michigan Tech associate professor of art, Lisa Gordillo. It features works of art and writing by more than 30 artists and writers. Gordillo is excited to present an older arts tradition with a contemporary twist. She drew much of her inspiration for this show from Jewish Women's Salons, which focused on inclusivity, diversity, and contemporary dialogue. Works of art will also pepper the Rozsa lobby, creating sitting spaces and areas for conversation. Salon! runs Now – April 20 in Michigan Tech's A-Space Gallery, hours are M-F 8:00 am – 8:00 pm and 1:00 – 8:00 pm on Saturdays, and the exhibition is free and open to the public.
---
A Succulent Study Break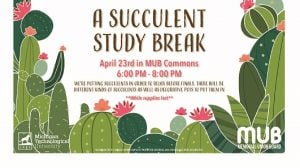 The MUB Board is hosting a Succulent Study Break event that we are having at Tech. There will be events held Tuesday, April 23rd, from 6 pm to 8 pm, in the MUB Commons.
To relax before finals we'll be potting succulents . There will be different kinds of succulents as well as decorative pots to put them in.
Come and enjoy while supplies last!
---
Stress Relief Craft Night
You're invited to come and join the Sorority women do of Michigan Tech for an evening of Pinterest crafting,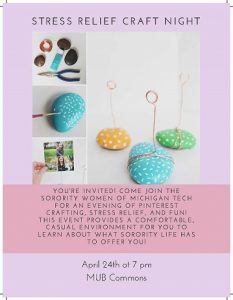 stress relief and fun!
This event provides a comfortable casual environment for you to learn about what Sorority life has to offer you!
It's Wednesday, April 24th at 7 pm in the MUB Commons!
---
The MTMC is Hiring!
The MTMC is currently hiring coaches for the Fall semester.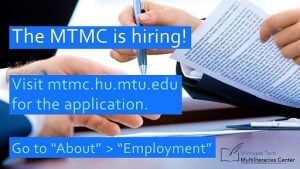 ---
Husky Innovate Speaker Series Event on April 26th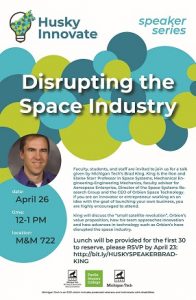 The Innovation Center for Entrepreneurship will host its second Husky Innovate Speaker Series on Friday, April 26, from 12-1 pm in the Pavlis Honors College Collaboration Space (M&M 722). Faculty, students, and staff are invited to join us for a talk given by Michigan Tech's Dr. Brad King. King is the Ron and Elaine Starr Professor in Space Systems in the department of Mechanical Engineering-Engineering Mechanics. He also serves as the faculty advisor for Aerospace Enterprise, is Director of the Space Systems Research Group, and the CEO of Orbion Space Technology.
King will discuss the "small satellite revolution", Orbion's value proposition of affordable, reliable electric propulsion for your small satellite mission, how his team approaches innovation, and how advances in technology such as Orbion's have disrupted the space industry.
If you are an innovator or entrepreneur working on an idea with the goal of launching your own business, you are highly encouraged to attend. Registration is required, and attendance will be capped at 30. Lunch will be provided to the first 30 people to register. Please register no later than Tuesday, April 23rd.
The Husky Innovate Speaker Series is hosted by the Innovation Center for Entrepreneurship which is a collaboration between the Pavlis Honors College, the School of Business and Economics, and the Vice President for Research Office.
---
Healthy Husky Workshop Series
Healthy Husky Workshop Series (Spring 2019)
Want to learn more?  Follow Student Health and Wellness on Social Media

Facebook (Michigan Tech Wellness) and Instagram!

Events and information posted weekly

We're Hiring!

Do you love to talk about Health and Wellness?  Are you passionate about balance and living a healthy lifestyle?  Visit www.mtu.edu/wellness and click on "Join Our Team" to submit an    application

Interviews will take place in the spring 2019 semester and work will begin in the Fall 2019 semester

Have a question about Student Health and Wellness?  Email us at wellness@mtu.edu

---
StudentWatch Course Material Survey
The Campus Store is once again participating in the nationwide survey regarding course materials, we would like to know your thoughts!
Your feedback will help the Campus Store strive to provide the broadest course material options and most cost-conscious pricing through strategic partnerships, transparency, and industry awareness.
Cash prizes are available, please check your email for the link to the survey!
Have a great semester and we hope to hear from you!
---
HuskyDeals Google Group!
The HuskyDeals Google Group is here to share information about our current promotions and services! We distribute relevant information using a very limited amount of communications through this group. You may join or leave at any time.
To join now, email "huskydeals-l+subscribe@mtu.edu" or search your Google groups for HuskyDeals and select the Join option. And if you're already a member, check your email for your birthday discount coupon! Thank you for your patronage!
---
The SDC Summer Schedule
The SDC summer building schedule is now available. Summer hours will begin Sunday, May 5 and run through Sunday, August 25, 2019.
Please note the following:
May 27 and July 4 – The SDC will be closed for the holidays.
May 5-10 – Annual steam shutdown (no hot water in the SDC, but we will remain open).
May 5 – August 4 – Lap pool ONLY will be open (dive tank will be closed). See schedule for specific swim options/times.
June 4
The Ice arena re-opens (this is approximate with install beginning May 28).
August 5 – September 2
Both pools will be CLOSED for mechanical repairs and general maintenance. They are scheduled to reopen Tuesday, September 3.