Its time for our yearly training for Registered Student Organization officers and advisors! This year training has expanded to include Vice President, Secretary, and Treasurer rather than limiting important information to only RSO Presidents and Advisors. You have been added to a training path in Involvement Link made especially for your position.
This training will guide you through the various expectations, policies, requirements, and general operating standards of Registered Student Organizations at Michigan Tech.
You are required to complete all training items by Friday, October 2nd, 2020 at 5 pm, in order for your RSO to complete the yearly re-registration process. When you have completed all training items, make sure you notify your RSO's president so that they may move forward with RSO re-registration.
Detailed Instructions
1 . Navigate to Involvement.mtu.edu
2 . Click "Sign In" in the upper right corner
3. Log in using your MTU ISO. You are now on Involvement Link.
4. Scroll down, past the "Events" section until you come to the " Paths" module, on the right-hand side, above "Campus Links". Click on your Path to begin your training.
5. Scroll down to the list of training modules and click "Expand All" to reveal the required training items
6. In each training item, you must click "Read More" under each video where it appears. There is vital information, links, and instructions you will need to complete your training.
7. When you have completed watching the video, make sure you click the "Mark Complete" button at the bottom of the training, enter the date, and click "Submit". This allows Student Leadership & Involvement to track your progress. You will need to click this button on all training items where it appears.
8. The final training item, MTU Flex, requires you to click on"Report Experience" to complete. When using this tool, you will be prompted to complete the RSO Mandatory Training Acknowledgement.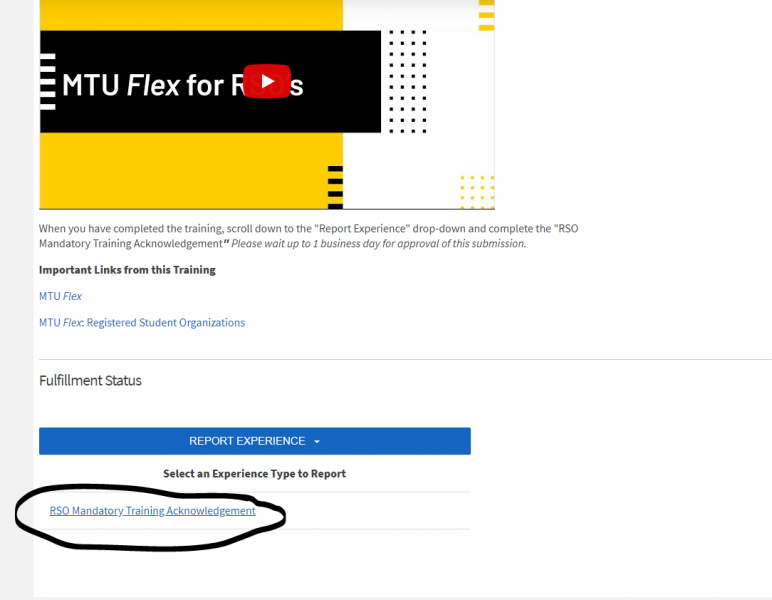 9. Do not change the " Please select any Path Items you believe this Experience fulfills" as this will auto-generate the appropriate response!
10. When complete, click "Submit"
11. You will be required to wait for your submission to be approved by Student Leadership & Involvement before your training will be marked as 100% complete. Until it is approved by Student Leadership & Involvement, you will see a green hourglass next to the appropriate training item.

12. Within one business day, Student Leadership & Involvement will approve your submissions or return them for revision. When your training progress is listed at 100% please email your RSO's president to let them know they may proceed with re-registration.