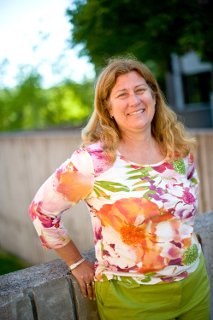 Sorby has received North Carolina State University's Orthogonal Medal for outstanding accomplishments in improving students' spatial visualization skills.
The award is presented by the Technology, Engineering and Design Education Program in North Carolina State's College of Engineering.
She is a professor of mechanical engineering-engineering mechanics and director of the Engineering Education and Innovation Research Group. In the field of engineering graphics, she is known for her studies of students' visual abilities. With former faculty member Beverly Baartmans, Sorby developed a course to help engineering freshmen improve their visualization skills. The course not only improved their skills, but also resulted in better grades in physics, chemistry, calculus and computer science and improved the students' retention rate. The course has been so successful that it is being adopted by a number of other universities. Read the full story…
Pushpa Murthy receive the 2011 Distinguished Service Award, for her efforts in helping Michigan Tech adopt a paid maternity leave policy in January 2010.
Murthy, a professor of chemistry and director of the Women in Science and Engineering group, was nominated for the honor by Faith Morrison, an associate professor of chemical engineering. After the maternity leave issue was raised at the spring 2009 WISE meeting, Murthy formed a working group with Morrison and Tammy Haut Donahue, associate professor of biomedical engineering, with the goal of finalizing a University policy by the first of the year. "I am amazed that this significant policy change could have been brought about with such speed," Morrison wrote in her nomination. "I credit Pushpa Murthy."
Murthy says there's plenty of credit to be divvied up: Morrison and Donahue put in extraordinary effort, Human Resources staff contributed their expertise, and Provost Max Seel and President Glenn Mroz supported the measure. Read the full story…